Construction sites, residential communities, commercial buildings, hospitals, prisons, universities, and shopping centers are all examples of places that could be surrounded by fences. While each location is unique, there are certain questions that will be asked to determine the type of signage or badging that is required.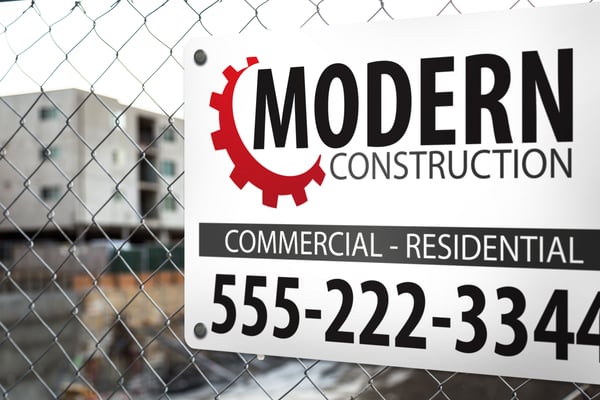 1 - How will the fence sign be attached?
Chain link fence signs typically call for attachment with rivets, screws, or ties. The right solution will depend on whether the sign is meant to be permanent or temporary. A construction zone fence is an example of a temporary need. For this, zip ties or screws can be the answer. A more permanent fence example is a schoolyard. In this scenario, it is important that the fence sign remain secure and in place for a long time. Rivets or screws can be the recommendation for this. The sign needs to be made with pierced holes to allow for the size of the rivet or screw.
Fence signs that are being placed on areas with more contact area can take advantage of the simple peel and stick application with adhesive. Even in outdoor applications, adhesive can be a robust solution that will last. Fence types that can benefit from this are ones where the sign or badge has backing that the adhesive can bond to. An example of this is a gate where there are wider sections for the sign to be located on.
2 - What size and shape is needed?
Choose from standard options to further simplify the process. Square and rectangle shapes are most common, but circle and ovals can work too, depending on the application and your design. Many are configured with multiple pierced holes so they attach to the fence with rivets or screws.
3 - What colors and type of finish is needed?
Color and contrast expresses confidence and creates a bold, memorable, and readable sign. There are many options and varieties of color and finish combinations for fence signs
Spot Color - opaque, transparent and metallic colors with PMS color match.

Brushed Silver Finish

Brushed Gold Finish

Polished Silver Finish
Related Posts and Resources
Factors to Consider for Exterior Metal Badges
Premium Outdoor Metal Nameplates eBook
Looking to Make an Impact for Your Sign - Add Color!
Durable Metal Fence Signs
How Can We Help?
Need help on designing an eye-catching and memorable fence sign? We've got that covered! From custom tools built in-house to graphic layout assistance, we will work with you every step of the way. Get a quote to start the conversation!