Metal is a durable material suitable for product identification across all markets, especially products and applications that are exposed to harsh environments including sunlight/UV rays, hot or cold climates, and exposure to chemicals or cleaning products.
This post reviews the common metals offered for product identification in applications from decorative trim, industrial Data Plates and Asset Tags, Information and Warning Plates, and brand-building nameplates. Choosing the right metal will be dependent on the specific requirements for the product.
Aluminum
Aluminum is the metal of choice for product designers looking for durable and strong nameplates, badges and ID plates. Product identification made from aluminum has value for a wide variety of applications in markets from sporting goods and heavy machinery to food service equipment and furniture.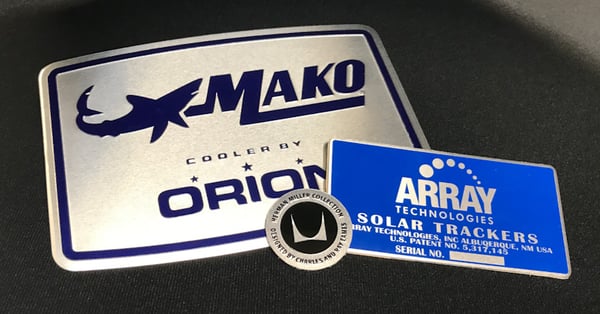 Advantages of Aluminum for Nameplates and ID Plates
Aluminum is chemical resistant, highly recyclable, lightweight and durable. It is suitable for both indoor and outdoor use. It can be formed to take on a desired shape and embossed for permanent markings or branding purposes.
Decorating Options for Aluminum
Aluminum can take on the appearance of other metals like brass or stainless steel by applying transparent tints of color to the surface. The metal is friendly for applying various finishes such as textures and selective gloss, resulting in attractive ways to promote brand awareness or communicate operating instructions.
Stainless Steel
Stainless steel is a popular substrate for product identification in indoor or outdoor applications, usually within harsh environments. These type of nameplates, ID Plates and badges made from stainless steel add value for a variety of industrial products including heavy machinery, mining equipment, food service equipment and appliance trim.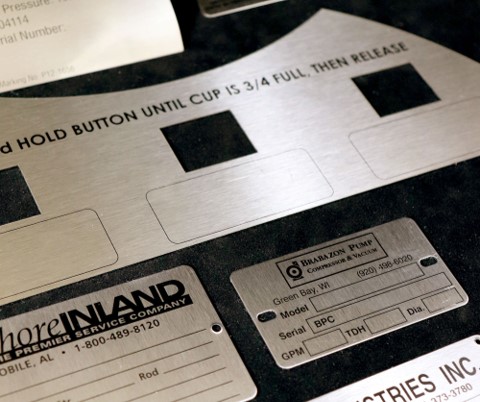 Advantages of Stainless Steel for Industrial Applications
Stainless steel nameplates, badges and decorative trim are expected to last many years in nearly any environment. It is corrosive and dent resistant. Its strength makes it ideal for industrial data or rating plates and information tags.
Decorating Options for Stainless Steel
Standard screen printing decoration is possible with the most common artwork showing basic one or two color designs. Customization is possible with serialized numbers and your unique artwork for graphics. Take into consideration that steel weighs more than aluminum and can cost more than other metals.
Brass
While aluminum and stainless steel are most common metal requirements for nameplates, brass is also a popular choice. Products from industrial equipment and cases to furniture and product displays can benefit from the durability and elegant look of brass for product identification.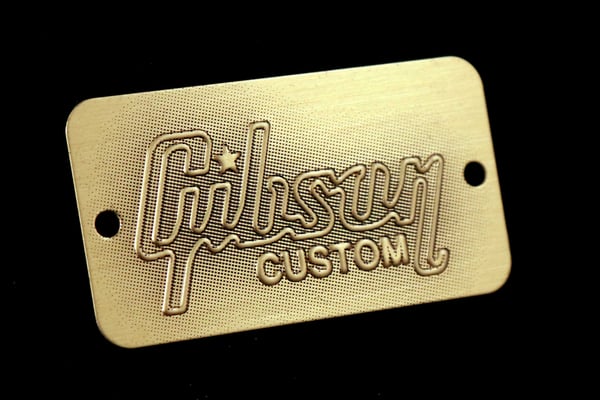 Advantages of Brass Metal Nameplates and Badges
Brass is versatile in that it can be used either as an industrial tag or a decorative nameplate. It is strong and durable, making it capable of lasting in both indoor and outdoor applications. Brass can be formed just like aluminum and stainless steel. Graphics can be embossed, however, they are not as defined as on the other metals.
Decorating Options for Brass Nameplates
Similar to stainless steel, decoration on brass is accomplished with screen printing and most graphics are comprised of basic one or two color designs. It should be noted that while the face of nameplates and tags made from brass are coated for protection, the edges remain raw metal. This means that oxidation and corrosion can happen at the edges.
Diverse Metal Material Options
From warning labels and ID plates to attention grabbing nameplates and overlays, all your product identification needs are met with diverse metal options from a single source. While this post has outlined the most common materials offered, other types of metal can be reviewed on a case by case scenario.
How Can We Help?
Your brand deserves careful consideration for the material used for product identification. Versatility in decorating options for metal substrates gives you opportunity to design unique branding components integrated into your final product. Need help identifying the right substrate for your application? Our Customer Care team is ready to review and work with you.
Related Posts and Resources
5 Reasons Aluminum is Metal of Choice for Nameplates and Badges
5 Reasons to Use Stainless Steel for Industrial Nameplates
When is Brass a Good Choice for Metal Nameplates
Outdoor Metal Nameplates eBook
Customized Durable Safety Labels eBook
Metal Data Plates eBook