One of the elements for nameplate design is communicating the right message to the market. Is it important for your branding to highlight your company logo in a prominent product badge? Or is it more important to communicate operating and safety information to the product user?
Regardless of the intention for a nameplate or label, the ability to customize the design is appreciated by many companies that trust their brands with us. Let's walk through some of the options to make a truly unique part that effectively communicates your message.

Material Choice
Defining the right substrate for product identification takes an understanding of its end use environment and application. Aluminum, brass and steel are durable options for metal nameplates, ID tags and panels. Polycarbonate, polyester and vinyl are economical flexible materials for labels, decals and overlays. A variety of thickness, adhesives and protective coatings is available for long-lasting, quality parts that will enhance your brand strategy.
Custom Color Development
When you are working through the design phase of product development, one of the decisions needed is to specify the colors for branding. Translating those colors onto your product identification is critical to carry your brand over onto the nameplate or badge. A color management system means a unique formula is developed and kept on file for consistency and exact match of your specifications.
Embossed Graphics
Staying ahead of the competition is one of the biggest struggles any company faces. Customers are constantly looking for the next best thing, and how their favorite product is going to get better. The badge that brands those products should be no different. Embossing a metal nameplate not only adds perceived value, but differentiates your product from others in the market. On plastic, an embossed button adds functionality to a graphic overlay. What a great way to get your message out!
Background Finishes
Incorporating a background finish into your product identification can enhance brand awareness, increase perceived value of your product and make a lasting impact in the market. Precise technical patterns, woven carbon fiber structures and faux finishes can be integrated into decorative trim, nameplates, badges and labels as background decoration or in selective areas to draw attention. Color, gloss and scale are fully customizable suit your needs.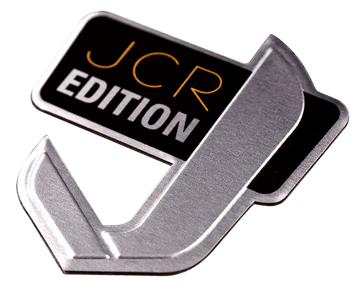 Unique Shapes for Nameplates and Labels
Many logos offer clear indication for the shape that is best used when translated onto decals or emblems. Keep it simple and use this to your design advantage. Common shapes like ovals, circles and rectangles are readily available in our die library. Taking a step outside of the ordinary and common-place with a unique shape can draw attention to your brand and differentiate from your competition.
Pulling it All Together
When all is said and done, designing effective product identification comes down to relaying a message. Customization options for nameplates and labels are wide open - from the type of material that is used, color call outs, adding dimension with embossed graphics, enhancement with a background finish and even the shape of the part. You control the look of your nameplate. It can simply communicate information for proper and safe handling or it can effectively promote your brand in the market.
How Can We Help?
Creating custom solutions for product identification has been our focus for over 60 years. Brands from every industry have trusted us to produce quality nameplates and labels that work with their individual strategies. Concept drawings, color chips or pre-production prototypes may be provided to help review and make a decision. These options should be discussed with your Customer Care Representative and may require some investment. We're here to work with you every step of the way.
Related Posts

Custom Color Development for Nameplates and Labels
4 Reasons to Emboss your Nameplate or Label
Common Shapes for Nameplates and Labels
3 Things to Expect from a Nameplate Design Project
Creative Tips for Effective Product Identification