Fence signage is an extremely effective and economical way to advertise your company. Done right, it grabs the attention of potential customers and makes a great first impression.
Aluminum is Metal of Choice for Fence Signs
Aluminum is the preferred option for signs exposed to heavy traffic, weather, and heavy equipment areas. It is perfect for outdoor use with flexibility to customize shape, size, and color to meet your needs. Aluminum signs are screen printed with weather, fade, and scratch resistant heavy-duty inks for attractive vibrant colors.

Common Size and Shapes for Metal Signs
In a rush? Choose from standard options to further simplify the process. Square and rectangle shapes are most common, but circle and ovals can work too, depending on the application and your design. Many are configured with multiple pierced holes so they attach to the fence with rivets or screws.
Popular Fence Sign Dimensions
3" x 6"
3" x 8"
4" x 8"
5" x 8"
6" x 8"
6" x 9"
6" x 12"
Popular Large Format Sign Dimensions
10" x 11"
11" x 15"
23" x 23"
Standard Color Options for Fence Signage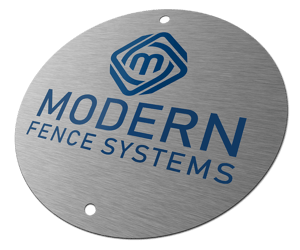 Color and contrast expresses confidence and creates a bold, memorable, and readable sign. There are many options and varieties of color and finish combinations for fence signs
Spot Color - opaque, transparent and metallic colors with PMS color match.

Brushed Silver Finish

Brushed Gold Finish

Polished Silver Finish
How Can We Help?
The more demanding the specs for your custom signage, the more our services stand out. Our creative team will work with you every step of the way to design an innovative solution for your brand to attract customers and increase sales.