One of the most important things for effective product identification is how the nameplate or label will be attached. Whether you are designing a flat metal nameplate, backlit polycarbonate overlay or an embossed product identification badge, attachment to the product should be one of the checklist items to review. A secure bond with adhesive is a common solution.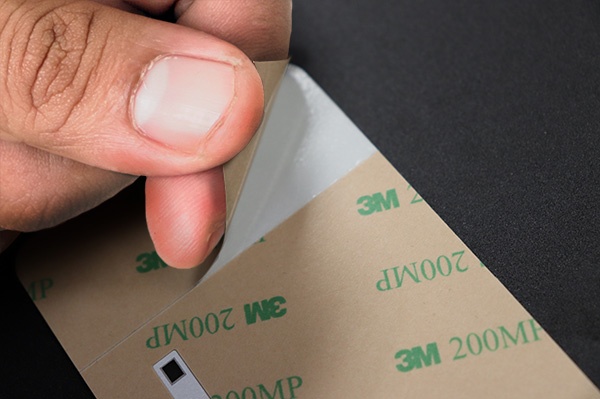 A wide range of adhesives are available in nameplate and label manufacturing. Common specifications call for the 3M brand, but equivalent alternatives can be identified as well.
Recommendations are made based on the substrate the nameplate is applied to, taking into consideration any environmental exposure and the specific guidelines the bond needs to meet.
Pressure Sensitive Adhesive
Pressure sensitive adhesive is also referred to as peel and stick. In this process the adhesive is supplied with a liner that is peeled off before placing the part onto the product, using a degree of pressure to have it stick in place. This type of adhesive can be applied overall or in selective areas, making it an effective choice for transparent windows and overlays. It can be supplied in thin acrylic or varying thicknesses of closed cell foam.
Foam Adhesive
Foam adhesive can be used to fill up the space on the back side of a metal badge that has a formed over edge. The thickness of the adhesive will be determined by the depth of the draw or wiped over edge and by your specifications for how high the badge should sit up from the mating surface.
Secure attachment of a graphic overlay, metal control panel, or serial plate can be difficult when there is an uneven surface, or there is a bend to the part. Die cut spacers made from foam adhesive help resolve this issue. Spacers are used to:
Even out a rough surface

Insulate against heat or cold temperatures

Fill a gap between mating surfaces
Nameplate Attachment with Adhesive
Pressure sensitive adhesives are supplied with a liner that is pulled away, and then pressure is used to attach the nameplate or label to the mating surface. A pull or tear tab can be used to ease in the removal of the liner during assembly. The liner can also be slit to simplify the assembly process.
Understanding the basic options for securing a nameplate or label to your product is a key part of the design process. Early communication with clear understanding of the environment and application needs will help to keep cost at a minimum.
How Can We Help?
If you are unsure of the type of adhesive that will work for your application, we can help identify options. We may ask for you to send in a sample of the mating surface, or samples of adhesive may be sent to you to try out.
Related Posts
Adhesive Solutions for Rough Surfaces
Getting Nameplates to Stick to Powder Coated Metal
5 Tips for Storing and Applying Nameplates with Adhesive
How to Pick the Right Adhesive for Nameplates
5 Questions to Ask for Every Nameplate or Label Project