Companies with heavy equipment or sensitive instruments need to be sure that safety is communicated to the employees and customers who use and operate their products. This type of product identification is different than brand-building nameplates, labels, or functional overlays. The importance of data plates for communication cannot be understated or left to chance.
Communicating Critical Information
Data plates and equipment tags communicate critical information to operators, installers, and equipment users. Much of this is regulated by government organizations expecting strict compliance. In addition to company information, these types of information plates need to be durable with specific markings for equipment.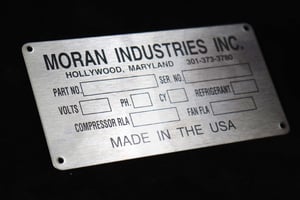 Types of Critical Information:
Load capacity
Maximum temperature
Model number
Maximum pressure
Electrical rating
QR codes
Bar codes
Sequential numbering can be configured into the production process with printing, stamping, or laser operations. The customer can also finish marking data plates on their end with laser or stamping equipment.
Material Options for Data Plates
The most common material for industrial equipment data plates and tags is metal, with aluminum and stainless steel being top of the choices. Both are suitable for indoor and outdoor settings. Plastic material is also available for lower price point solutions.

How Can We Help?
Choosing the right processing and materials for ID plates minimizes the risk of critical information not being visible or the data plate wearing away. We have a team of experienced professionals ready to work with you to identify the right material and processing to allow you to take a deep breath and relax.