When it comes to standing out in the market, there are many options for nameplate design - from custom color development, to picking the right shape and material for the label and others. No matter if your needs require a highly decorative badge showcasing a logo or a basic tag providing operating instructions, the opportunity to raise brand awareness exists and should be taken into consideration.
In a previous blog article, I spoke about the importance elevating your brand by using a custom emboss. It doesn't end with your standard emboss though. The beauty of aluminum is that it's not only light and durable but can be easily formed during different tooling processes. One of those tooling techniques is a multi-level emboss.
A multi-level emboss results in additional dimension and depth to the metal badge by raising specific areas of your initial emboss. It gives you the perception of "heft" or a "clunk factor" that so many customers relate to the value of a die cast part, but without the cost or weight. All this can be done with the same decorating processes used on a flat or traditional embossed part.
You can see these elements in the image below where the red-orange background is the original flat aluminum. The subtle gold tint area is embossed up for the first level of dimension. Then the black graphics are embossed up a second level, drawing the attention to the brand. This is an effective way to showcase a brand with the look of a thicker part. Attachment to the end product is with standard pressure sensitive adhesive.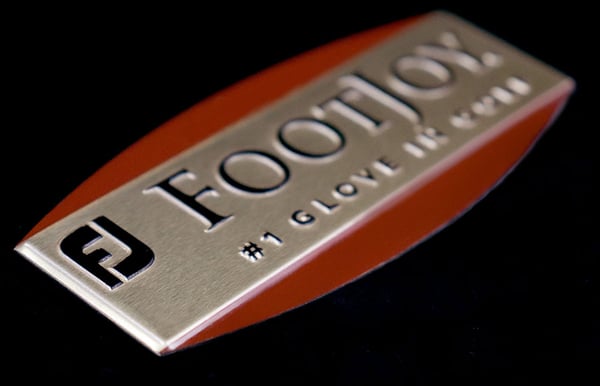 With the right design, a multi-level emboss can give the look of two separate pieces assembled together, but actually produced as one part. From a design standpoint it again increases the perceived value, and elevates your brand, and from a purchasing stand point, it saves the cost of purchasing two separate parts, then assembling them.
When you think you've maximized your nameplate design and can't elevate it any further, consider a multi-level emboss to really take your design to the next level.
How Can We Help?
Custom solutions for product identification are achieved by clear understanding of your project and branding objectives. Work with a team who has proven history and attention to detail. Over 60 years of producing quality metal nameplates has given opportunity to work with nearly every industry and application. We can help you too!
Related Posts
3 Ways to Dress Up Metal Nameplates to Increase Brand Awareness
Basic Tool Information for Metal Nameplates and Badges
Permanent Embossed Text for Metal Information Plates