Metal nameplates are produced with stamping tools and can be as simple as a blank die to cut a flat part or as complex as multi-level emboss and form operations for a dimensional badge. Understanding the basics of these operations will help you in the design of your part.
Blank Dies Cut to Shape

Any tool used to fabricate metal nameplates will have at minimum a blank operation. This cuts the shape of the designed part through the use of a punch press. Parts are passed through inspection and packing before product is shipped.
Blank dies can feature a simple shape like a circle or rectangle. A notch or a hole may be configured as well depending on the end design and attachment method for the nameplate.
Emboss and Deboss Dies Add Dimension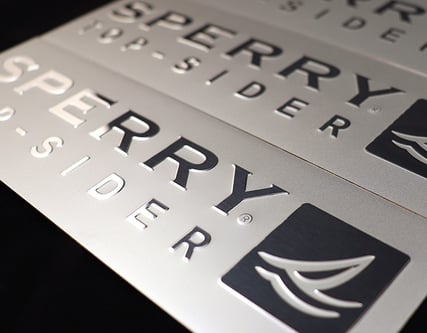 Embossing or debossing graphics and logos in metal nameplates is a great way to add dimension and focus to the brand. That is not the only reason to incorporate these areas, however. This enhancement is a permanent way to ensure that important text is featured and stands out for metal information tags.
Emboss can be one level - meaning that each embossed feature is raised to the same height. If more detail is needed, other emboss options include multi-level, beveled and dimensional.
Debossed metal is the reverse of the emboss process. A custom tool pushes the surface down into a metal die to create an indent of the image into the surface of the aluminum. The depth of the deboss is dependent on the material thickness.
Form Dies Add Height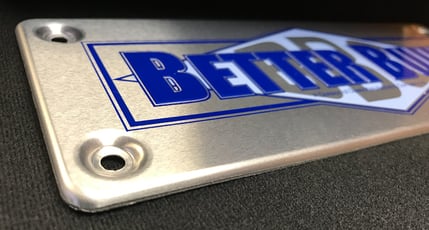 Adding height to metal badges is an impressive way to enhance a brand. Height draws attention to the part and can give the illusion of a much heavier, die cast piece. Most metal material can be fabricated to have a formed over edge. This provides the illusion of a much thicker part, keeping weight and material cost down. It also finishes the edge and hides the raw aluminum edge from showing.
Form dies need to take into consideration the skirt length and bend radius. Dimensional print/CAD files are generally needed to fully understand and determine the tooling required. Each project is unique and will need to have review of the dimensions to determine manufacturing feasibility.
A form die requires further discussion and understanding for the attachment to the end product. Depending on which attachment is used, additional adhesive or assembly operations may be required as part of the tooling process.
Maximize Tooling for Brand Consistency
Once a tool is identified, take advantage of the shape and use it across your product lines. Many companies use this as a recognizable shape for their logo, or to carry the brand across similar types of products, targeted to different demographics.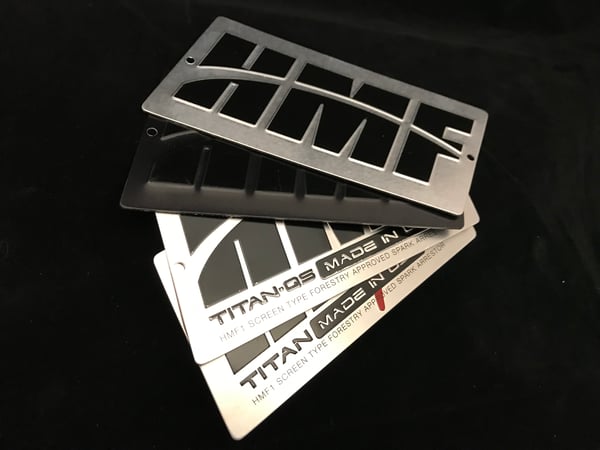 Armed with this basic information for the tooling options used to create aluminum nameplates and badges you can begin to put together your design. Keep in mind the more operations that you include increase the complexity, cost and time needed to build the tool.
How Can We Help?
A library with thousands of blank dies means many options for your nameplate and label needs. In-house tooling means quick turnaround for custom builds. We're here to help create an attractive part for your brand strategy.