When it comes to discussing product identification, many people assume metal is the only material of choice. Some applications do not fit with metal properties - for example, a piece of equipment with lighted indicators or warning signals like a dashboard or speedometer. Don't stress over this. Instead, consider using a flexible material like polycarbonate. Food service and medical equipment overlays as well as decorative branding nameplates and safety labels can be found using this plastic substrate.
This post reviews some of the elements that make polycarbonate a good choice for graphic overlays and labels.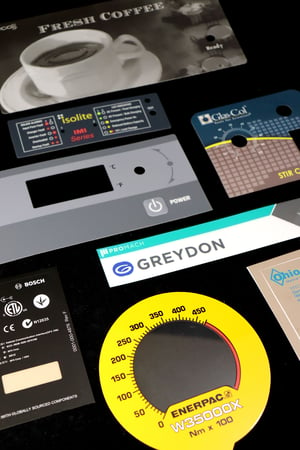 Economical and Lightweight - Polycarbonate (also known as LEXAN®) is an economical material solution for applications that require functional elements like LED windows or touch controls. The plastic is lightweight which makes it easy to die cut.
Durable - Graphics and artwork details are applied to the second surface or back side of the material, resulting in natural protection for the copy and graphics. Polycarbonate is resistant to chemicals, heat and abrasions, making it a material of choice for nearly any indoor equipment and industrial nameplate.
Versatile Decorating Options - Decorating options include full color graphics, clear or transparent color windows and dead front or back lit graphics. Enhancements available for polycarbonate overlays and labels include doming for a jewel or 3D effect and embossing for keypads or graphics. Adhesives can be applied selectively to keep windows and pads free from obstructions.
Supply Options - Polycarbonate parts can be supplied as individual die cut or in strips of multiple parts. Additionally families of parts can be supplied in kitted format for easy assembly and inventory. Polycarbonate is available as high gloss clear or velvet texture in thicknesses ranging from .005" - .030".
How can We Help?
From standard warning labels and asset labels to brand-building graphic overlays and nameplates, all your product identification needs are met with diverse substrate options from a single source. Let our Customer Care team help find the right solution for your needs!