Safety labels are a key part of the information for use provided by equipment manufacturers to users and are often the only information that many users get to see. This makes the design of safety labels critical to their effectiveness. There is as much risk in the under-use of safety labels as there is in the over-use of safety labels. Often, manufacturers simply select generic labels easily available from catalogs, missing the opportunity to design labels specific to the equipment and the hazards present.
Customization Options for Safety Labels
Informational symbols, text and colors are regulated through globally recognized standards set by OSHA, ANSI and other organizations. Clear translation of these standards on safety labels is important, and so is taking time to incorporate specific information or operational instructions that relate to your product.
This embossed aluminum warning plate is a great example of a non-standard design. The custom shape certainly draws attention and makes you take a second look. Permanent embossed text will stand the test of time and exposure to harsh operating environment.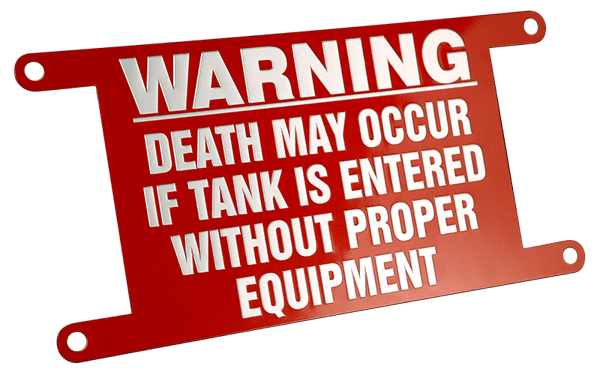 Durable printing processes on metal and plastic substrates allow for a variety of customization options to make sure that your product safety labels communicate the right message, in the right way. Some of these include:
Bar Codes
Company Logo
Embossed Graphics
QR Codes
Serialization
How Can We Help?
We understand the importance of communicating your message, your way. You know the details needed to protect equipment users. We know how to translate these into durable safety labels. Together we can make a great team!