Every once in a while it is nice to take a minute and look simply at the prettiness of nameplates. This post does just that.
Metallic Finish on Aluminum
What I really like about this nameplate is how simple it is, yet it speaks to prestige and elegance. Embossed graphics decorated with bright gold tint contrast nicely with matte black background. The raised graphics are further defined with a metallic gold, resulting in even more visual contrast and dimension. What a great looking nameplate!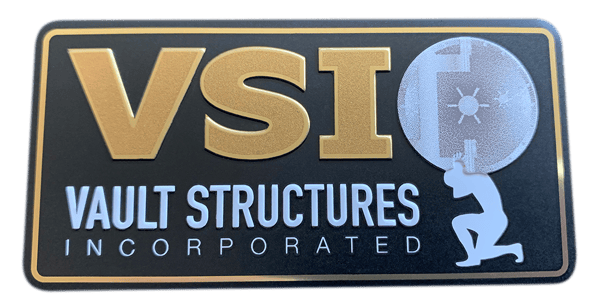 Incorporating a metallic color into a nameplate is a cost effective way to grab attention for brand awareness. a premium look that adds visual dimension. The end result is increased perceived value.
Metallic finishes are typically developed for use on metal surfaces, but many can be translated onto plastic substrates as well. This allows great flexibility for your product identification to combine the functionality of plastic with the enhancements of the finishes.
How Can We Help?
Metal nameplates and badges can be dressed up by adding a hint of color for contrast, using a screened texture for dimension or incorporating a pattern into an area for accent. These options provide flexibility in creating a unique look that enhances nameplate design. Need ideas to take your brand to the next level? We can help!
Related Posts
Where and When it Makes Sense to Use Patterns for Awesome Nameplates
3 Ways to Dress Up Metal Nameplates
Metallic Finish Options for Aluminum Surfaces
Sandblasted Look for Product Identification