Embossing graphics and other information on metal nameplates is a way to add height and interest to the design. These are typically used as a decorative element to the design - a way to stand out and elevate a brand in the market.
There are instances where embossed text is functional. In these cases the embossed elements become a necessary feature in order for the product user to be able to operate the machine or to understand the instructions that are being communicated. Braille lettering is an example of this type of functional emboss requirement.
Embossed Metal Text
The examples below show metal plates with graphics that are embossed along with corresponding Braille letters. These nameplates are used to communicate directions to people with visual impairments.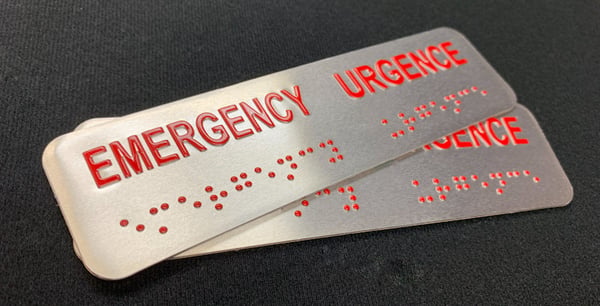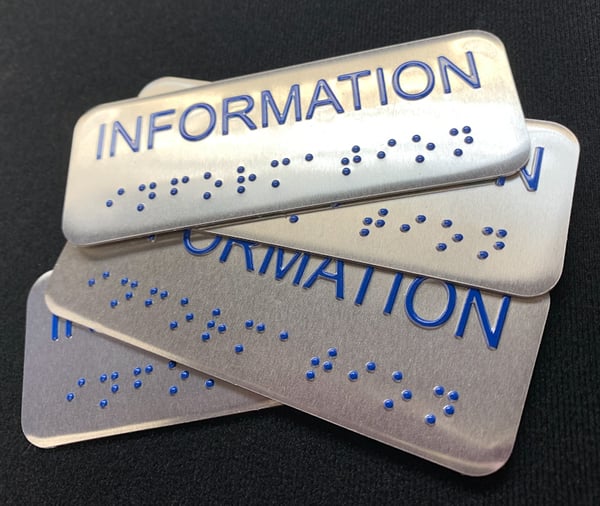 Embossed Polycarbonate Overlay
Functional embossing of graphics and text is not limited to only metal substrates. Polycarbonate and other plastics can also be embossed so that a decorative overlay becomes a functional and interactive part of the product. This example shows an overlay for a Braille machine which acts as an interactive learning tool for students as they master the alphabet using these characters. The raised letters and graphics help in the lessons as a tactile teaching aid.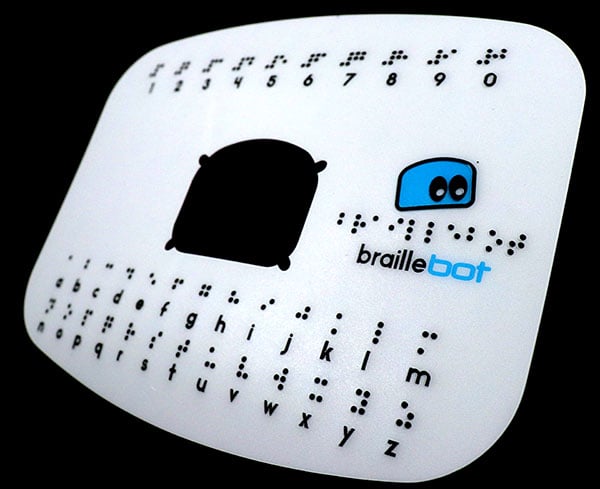 Embossing Explained
Embossing utilizes a custom tool to create a raised surface, adding dimension and drawing attention to your nameplate, overlay or label. The height of any embossed graphic depends on the thickness of the material and the type of tool used.
Products in every industry from consumer electronics and sporting goods to transportation and point of purchase have been found to use embossed features for product identification. It is an effective way to ensure permanent decoration and communication of key information for products that are exposed to weather and outdoor applications. As shown above, embossing is also useful for educational and information for visual aids.
How Can We Help?
Have an application that needs permanent or specific height of embossed graphics? We have the skills and knowledge to provide effective metal nameplates or plastic overlays that will solve this for you.
Related Posts
4 Reasons to Emboss Your Metal Nameplate
Embossed Metal Nameplates Explained
Permanent Embossed Text for Metal Information Plates
Embossed Button Options for Plastic Labels and Overlays