One of the benefits of providing a service like printing nameplates and labels is the variety of industries and products that come across our desks. It may be surprising to note that while many of our customers are the direct brand owner or OEM, a good number of projects come to us third party, where we act as the out-sourced vendor to another printer. This makes sense when you consider that according to a January 2021 report from Clutch 80% of small businesses plan to outsource business functions in 2021.
"Small businesses plan to outsource in order to save time, grow their company, and work with experts across a range of business functions. Overall, outsourcing provides small businesses distinct benefits." - Seamus Roddy, Content Writer for Clutch
Nameplates and labels are no different, and we see this with the number of printing partners that we work with every day. Here are three reasons to consider outsourcing your nameplate and label needs.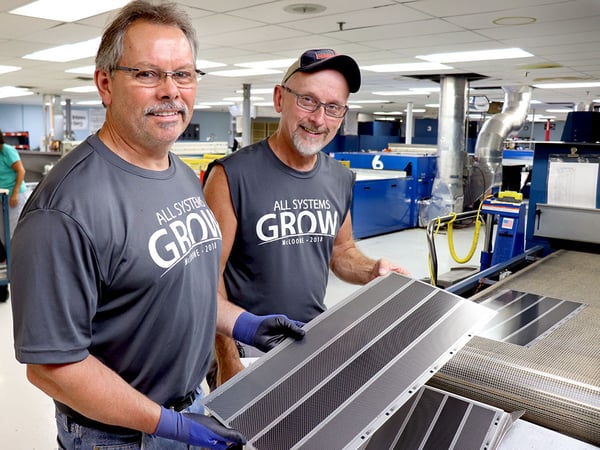 1 - Expanded Product Line
No matter if we are talking about the latest software or printing equipment upgrades, it may make sense to review outsourcing a nameplate or label. This is especially true if you find yourself with a request to quote for material or processing that is not in your offerings. Outsourcing for this means expanding your products and services - without the investment in equipment or training.
McLoone offers a variety of material on both metal and plastic substrates that satisfy many requirements for industrial, commercial, and promotional types of products. Processes include standard screen printing and digital printing with opportunity for enhancements through doming, embossing, cutting and piercing.
2 - Increased Capacity
Finding yourself in a situation where the customer needed lead time or quantities put you in a bind? A reliable printing partner that shares in processing of nameplates and labels can keep you on track and in good standing with your customer base.
McLoone takes pride in processing requests in a timely manner. From start to finish, we work with you and communicate along the way so that deadlines are met or exceeded.
3 - Cost Efficiency
Outsourcing the printing of metal nameplates or plastic labels supports your company's growth and bottom line by placing processes, operations, and technical knowledge in the hands of experts. This allows you to focus on your core business strengths and activities.
Whether it is a cost-cutting measure, increasing capacity, or expanding your products and services, there are many compelling reasons to partner with a secondary printer.
How Can We Help?
McLoone combines creativity and expertise to custom manufacture nameplates, labels, overlays, ID plates, and point of purchase display components. Whether building to print, creating rapid prototypes or collaborating on a custom solution, we are known and trusted as a reliable supply chain partner who meets deadlines and exceeds expectations. Contact us today to review your printing needs and let's see how we can work together!
Related Posts
Finding a Secondary Source for Printed Nameplates and Labels
Fulfillment Options for Nameplates and Labels
3 Factors to Consider When Sourcing a Nameplate Supplier
5 Questions to Ask and Answer for Every Nameplate or Label Project
Orignally published July 21, 2020; updated for clarity and resources April 6, 2021.