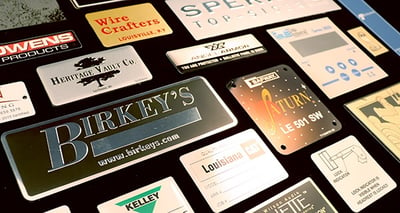 Aluminum is the metal of choice for product designers looking for durable and strong nameplates, badges and ID plates. Product identification made from aluminum has value for a wide variety of applications in markets from sporting goods and heavy machinery to food service equipment and furniture. Here are five reasons to consider using this metal for your next project.
1. Aluminum can be recycled. Aluminum is one material that is 100 percent recyclable, making it highly attractive from a sustainability point of view. This sustainability can help formulate competitive business advantages.
2. Aluminum is durable. Aluminum stands up in hot and cold temperatures and will not break down if exposed to many chemicals or most cleaners. It also does not rust. This means a nameplate or badge made from aluminum is expected to last for the life of the product that it is applied to.
3. Aluminum is lightweight. Aluminum weighs roughly one-third of what stainless steel does. This means that it can complement product design with an authentic material without sacrificing additional weight.
4. Aluminum has versatility in decoration options. Aluminum can take on the appearance of other metals like brass or stainless steel by applying transparent tints of color to the surface. The metal is friendly for applying various finishes such as textures and selective gloss, resulting in attractive ways to promote brand awareness or communicate operating instructions.
5. Aluminum can be fabricated. Aluminum can be formed to take on the shape of the product housing. Embossed graphics and serialized numbering are easily accomplished with low tooling costs.
How We Can Help
As you can see, there are advantages to working with an aluminum substrate for product identification. We are here to help guide in the selection of a product that works for your specific requirements. A skilled staff of people are available for review.