Stainless steel is a popular substrate for product identification in outdoor applications or harsh environments. These type of nameplates, ID Plates and badges made from stainless steel add value for a variety of industrial products including heavy machinery, mining equipment, food service equipment and appliance trim. Here are five reasons to consider using this metal for your next project.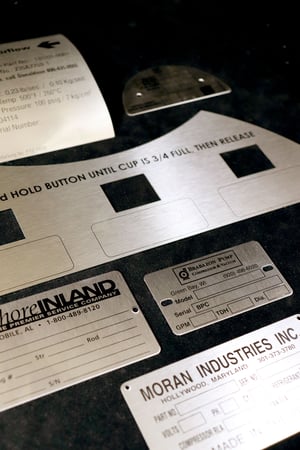 1. Stainless Steel is Corrosive Resistant. Stainless steel alloys contain chromium. This combination results in the metal being able to withstand exposure to oxidation. Further, it will not break down if exposed to many chemicals or most cleaners. This means an ID Plate, nameplate or badge made from stainless steel is expected to last for the life of the product that it is applied to.
2. Stainless Steel is Heat Resistant. Many industrial or appliance applications are exposed to extreme temperatures - hot or cold. Stainless steel is able to stand up to both without issue.
3. Stainless Steel is Rugged. The low-maintenance properties of stainless steel along with its durability and resistance to chemicals, rust and dents make it a trusted material for nameplates that need will stand the test of time.
4. Stainless Steel is Dent Resistant. Industrial applications and heavy handled products can be prone to scratches, dents and dings. The structural strength of this metal make it durable to take a hit and remain an effective manner of displaying important information or branding.
5. Stainless Steel can be Fabricated. Stainless steel can be formed to wrap around an enclosure or embossed with graphic details. Its strength means that once formed, stainless steel will hold its shape. The hardness of the material may require stronger tools than other metals.
Stainless steel nameplates, badges and decorative trim are expected to last many years in nearly any environment. Take into consideration that steel weighs more than aluminum and the sheer and can cost more than other metals. Customization is possible with serialized numbers and your unique artwork for graphics.
How We Can Help
As you can see, there are advantages to working with stainless steel as a strong and corrosive-resistant substrate for product identification. We are here to help guide in the selection of a product that works for your specific requirements.