One of the most common attachment solutions for product identification and equipment tags is a pressure sensitive adhesive. One of the questions that will be asked when selecting the adhesive is if it will be exposed to outdoor environments. This post explores considerations to keep in mind for outdoor exposure.
Exposure to the Elements
Environmental extremes and stresses will challenge the adhesion and bond of your nameplate or label. Machinery or tools that are primarily used outdoors like construction or farm equipment will require an adhesive that is resistant to harsh outdoor environments. Before taking an off-the-shelf box standard adhesive, consider if there will be exposure to any of these:
Sunlight or UV rays

Rain or humidity

Extreme heat or cold
Type of Surface
Another important element to consider is the type of surface your nameplate will be adhered to. Adhesives are commonly known for their ability to stick to flat metal or plastic surfaces. In those cases, a standard pressure sensitive adhesive makes sense.

Equipment and products that are made for outdoor use often have a metal housing that is powder coated or painted so your nameplate will be adhering to the paint and not the metal surface. Similarly, plastic surfaces can have a texture or low surface energy which may mean a more difficult adhesion. For these scenarios, it is important to understand the makeup of the surface. Be prepared to review these questions:
What type of substrate is your nameplate attached to?

Smooth or textured mating surface?

Curved or flat mating surface?

High or low surface energy?
Other Considerations in Choosing an Adhesive
How will you be applying the safety label?

What are your storage requirements?

What specs does the bond need to meet?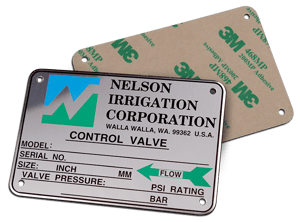 Extreme applications with exposure to outdoor environments may require extra attention to secure attachment. In these cases, combining pressure sensitive adhesive with rivets or screws to attach data plates to equipment is an effective solution. The addition of the adhesive means additional support so that the nameplate cannot easily be removed.
How Can We Help?
Understanding the environment that your exterior badge will be exposed to helps make sure that proper decorating processes, top coats and adhesives are used. Our Customer Care team is ready to talk with you and help identify a durable and effective solution that will stand up in the most brutal setting.
Related Posts
Getting Nameplates to Stick to Powder Coated Metal Surfaces
5 Tips for Storing and Applying Nameplates with Pressure Sensitive Adhesive
Factors to Consider for Exterior Metal Badges
High Heat Exposed Aluminum Badge