Alignment of product branding is a critical consideration in your design. Round shaped nameplates pose the challenge of easily being applied off-center to the product. One solution is to include a notch or tab into the design. This provides a locating feature which helps with assembly to the product.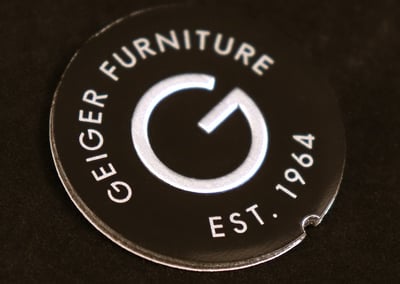 The furniture nameplate shown here makes use of the notch option. The bottom of the circle shape has a deliberate cutout that will match up to the exact spot for precise placement on the piece of furniture. An alternate design for this could be to have a slight protrusion or tab extending from the edge of the nameplate.
The mating surface needs to account for the location and dimension of the notch or tab. Secure attachment can be achieved with pressure sensitive or foam adhesive.
How Can We Help?
Ready to start reviewing options for your next nameplate or label? We have a team of people ready to help and guide you through the best solution for evaluating options for your product identification.