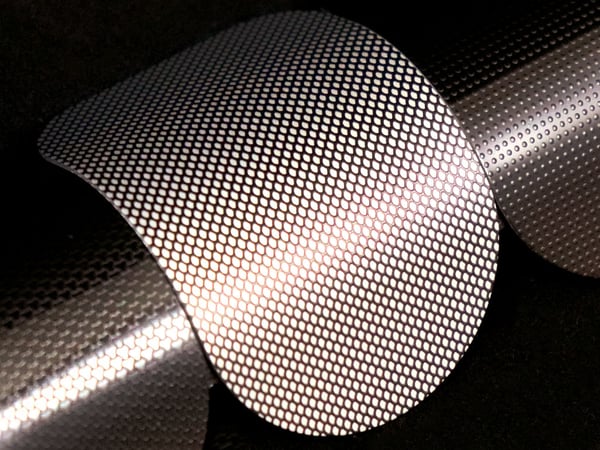 A common question people have when designing their product identification centers on ways to stand out or draw attention to the brand. One solution for a nameplate or label is to incorporate a pattern into the design. This could be in the background or as an accent area.
Patterns and finishes add interest to product branding. Options include technical metal finishes, attractive faux finishes as well as attention grabbing surface decoration with contrasting gloss levels or metallic inks.
Technical finishes are familiar geometric structures translated into repeatable patterns. High contrast or tone on tone looks work well with these types of finishes. Other decorative finish possibilities are carbon fiber, patina, woodgrain and stone structures. Any of these can make an impact and draw attention to a brand.
Many finishes are developed to take advantage of the reflective attribute of aluminum. The options are completely endless. Use the pattern as is, or customize the color, gloss and scale to suit your specific needs. In addition, changing the pattern is a cost effective option for differentiating across models.
How Can We Help?
Ready to review options for patterns to enhance your nameplate? Our Customer Care team will work with you to identify effective solutions that will take your brand to the next level.