When considering options for a nameplate, you also need to consider how it will attach to your product. Pressure sensitive adhesive is a popular solution to ensure a secure bond. A wide range of adhesives are available in nameplate and label manufacturing. Common specifications call for the 3M brand, but equivalent alternatives can be identified as well.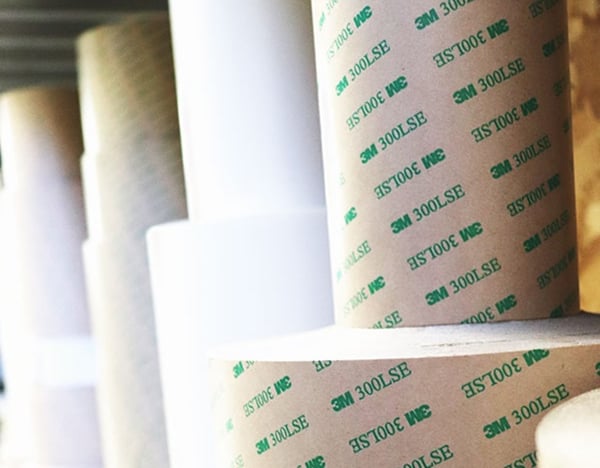 There are many considerations to keep in mind when choosing an adhesive as it is a critical element of a nameplate construction. Exposure to the elements, the type of surface it will stick to as well as any unique specs that the bond needs to meet are just some of these.
Exposure to the Elements
Environmental extremes and stresses will challenge the staying power of your product identification. Will the nameplate have exposure to any of these?
Sunlight or UV rays

Rain or humidity

Extreme heat or cold

Chemicals or cleaning solvents

Oils or grease

Vibration or moving parts

Interior or exterior application
Equipment that needs a caution or information tag on moving parts or vibrating engines will need a stronger adhesive than a product that simply requires a branded nameplate. Likewise, machinery that is primarily used outdoors like construction or farm equipment will require an adhesive that is resistant to harsh outdoor environments. Indoor applications can have extreme exposures as well, such as medical or food service equipment.
Type of Surface
Another important element to consider is the type of surface your nameplate will be adhered to. Adhesives are commonly known for their ability to stick to metal. However, metal is commonly powder coated or painted so your nameplate will be adhering to the paint and not the metal surface. Most common adhesives do not bond well with these surface coatings but there are special adhesives that are designed to be used specifically for these applications. Additionally, rough and smooth surfaces sometimes make the application area more difficult to adhere to as well.
What type of substrate is your nameplate attached to?

Smooth or textured mating surface?

Curved or flat mating surface?

High or low surface energy?
Other Considerations in Choosing an Adhesive
How will you be applying the nameplate?
What are your storage requirements?
What specs does the bond need to meet?
Choosing the appropriate adhesive for your nameplate, label or badge should include careful consideration of the application along with environmental factors. Adhesive recommendations are made based on the type of substrate the nameplate is applied to and the specs the bond needs to meet.
How Can We Help?
While some applications are more challenging than others, you can trust that McLoone will work with you to find the right adhesive solution so that your nameplate stands the test of time.