It goes without saying that no matter how many parts are run for customers, the expectation is that they receive good, quality parts. No matter if you are new to the task or well-seasoned with a history of finding a supplier for production identification in the form of nameplates, labels, or equipment ID plates, it is important that you can trust in the production processes. One of the ways to help give peace of mind and provide common structure is to look for a supplier who has received ISO registration.

What is ISO?
International Organization for Standardization (ISO) is an independent, non-governmental, international organization that develops standards to ensure the quality, safety, and efficiency of products, services, and systems.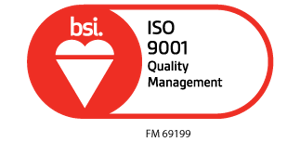 When products and services conform to International Standards, consumers have confidence that they are safe, reliable and of good quality. ISO 9001 means that all of a company's processes (customer service, sales, customer support, purchasing, product development) are audited regularly to ensure that they are offering the best possible quality of service.
What does it mean for our customers that McLoone has received ISO-9001:2015 registration?
In order to be certified an organization needs to demonstrate leadership level involvement according to the most recent quality management system standards. Additionally, it must have the ability to demonstrate more clearly than before that processes in the organization are being improved continuously and potential risks are being countered.
Customers in any industry share in benefits of McLoone obtaining and retaining certification and registration. This is because the actions taken to improve efficiencies and productivity become standard processes and procedures which are in place for all manufacturing jobs. Some of these benefits are:
Quick resolution of quality concerns

Constant review of supplier quality and delivery performance

Consistent delivery of quality products

Confidence in product quality
How often do you go through re-certification?
Routine internal audits are performed to confirm that the documented processes are reflected in day to day operations. Re-certification audits conducted by our Registrar occur every 3 years.
Where can I find information specific to McLoone's ISO 9001:2015 Registration?
Customers can find a copy of McLoone's Quality Registration Certificate can be found on our website.
Have more questions? Submit your information and question and our Customer Care team will be in touch. We're here to help.
Related Posts
5 Things You Have Control Over to Ensure Quality Parts
What Makes a Quality Nameplate?
Quality Concerns with Off-shore Supplier? You are not Alone
Secure Positive Brand Reputation with a Trusted Supplier