One of the benefits of using polycarbonate for product identification is the opportunity to have lighted graphics as part of the design element. This is often a necessary requirement that provides cautionary, indicator or performance alerts for the product user.
Lighted graphics can be configured so that they simply appear only when a light source is applied - also known as dead front graphics. They also can be designated as backlit graphics so that when a product or vehicle is powered on, the graphics glow.
Dead Front Graphics on Polycarbonate
Instrumentation panels, overlays and other labels may have user alert icons like warning indicators or safety notifications that are only needed if there is an issue with the operation of the vehicle or product. In these scenarios, the graphics are not seen under normal use. The graphic will appear only when lit from behind.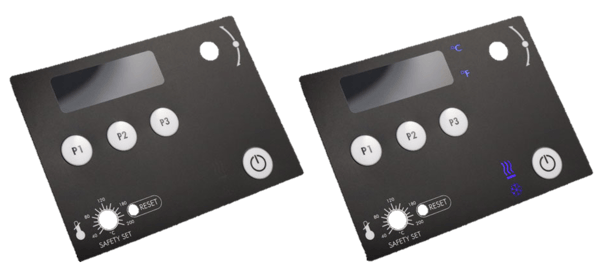 Backlit Graphics for Speedometer
A common scenario for graphics to be backlit is on speedometers and other types of measurement overlays. In these instances, it is important for the equipment user to be able to read speed, temperature and power indicators even in low-light. The graphics can also be seen in standard lighting conditions or if the product is not powered on. When a light source is applied, the colors light up, communicating necessary information.
Considerations for Backlit or Dead Front Graphics
Polycarbonate is a friendly substrate for plastic overlays that need lit up graphics. It typically starts out clear which means that virtually any color can be applied during decoration. Your artwork should call out the graphics or text which needs to light up as well as confirm the color for both lit and backlit. Vibrant transparent tints of colors are common for speedometer readings, on/off indicators or to specify graphics to light up when in use.
How Can We Help?
McLoone combines creativity and expertise to custom manufacture labels, nameplates and decals. For over 65 years, brands large and small have relied on us for demanding requirements. Whether building to print, creating rapid prototypes or collaborating on a custom solution, we're known for meeting deadlines and exceeding expectations. Ready to talk about your next nameplate project? We're here.