Looking for a way to dress up a metal nameplate or decorative trim? Metallic inks are an attractive option in creating cost effective product branding. Available in a variety of colors with the ability to be integrated into backgrounds or graphics, they offer visual texture. Whether placed in contrast with bright aluminum or as an accent to opaque and transparent colors, metallic finishes can take your nameplate or trim to the next level.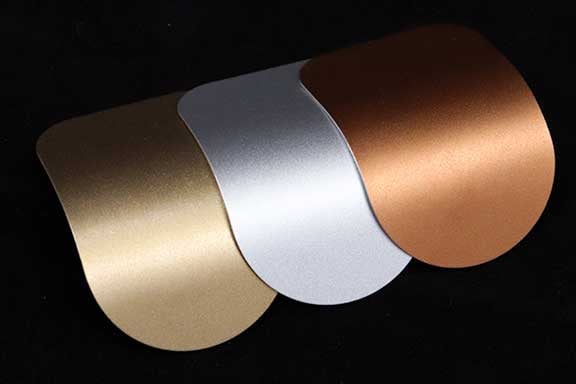 The latest finish options developed at McLoone include metallic gold, silver and copper. Many colors can be developed with metallic fleck. Metallic surfaces can work well for two-tone looks on nameplates, badges and labels or incorporated into decorative trim.
How Can We Help?
You pick the color and we will work to develop the metallic formula so that your product identification looks good. Let's review your next project. We're ready. Need some inspiration? Check out the Finish eBook for options in surface decoration that enhances your brand identity.