A majority of the projects that our customers bring to us involve attaching to the product with pressure sensitive adhesive. Some applications or environments are not suited for adhesive. Here are two other options for attachment instead of adhesive for metal ID plates.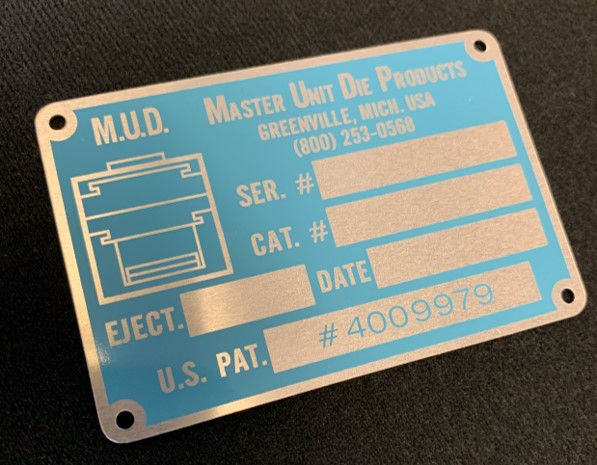 Mechanical Attachment for Metal ID Plates
Securing your ID plate to industrial equipment with screws, bolts or rivets is very common. This requires holes to be cut into the metal. The location and number of holes is up to you. Popular designs are either two or four holes. Installation happens on your end with the metal hardware, resulting in durable and secure attachment. The metal plate can be removed if the screw or bolt is also removed.
Welding Metal ID Plates for Permanent Attachment
A permanent attachment can be achieved by welding your metal ID plate onto the mating metal surface. This method requires a skilled worker on your end to use proper equipment resulting in the bond. The metal plate cannot be removed without breaking the weld.
How Can We Help?
If you are unsure of the best attachment option for your metal ID plate or nameplate, we can help identify options. Applications vary depending on the environment and type of equipment that the ID plate, tag, or nameplate will be secured to. We'll work with you for a durable solution.
Related Posts
Common Material and Attachment Methods for Effective ID Plates
Adhesive Options for Nameplates and Labels
Adhesive Solutions for Rough Surfaces