When it is time to lay out the specifications for your nameplate, focus is placed on front face decorating such as color and embossed graphics. Material, size and shape are other focus points. It can be easy to put off discussion and review adhesive needs.
Whether you are designing a flat metal nameplate, backlit polycarbonate overlay or an embossed product identification badge, attachment to the product should be one of the checklist items to review. A secure bond with adhesive is a common solution.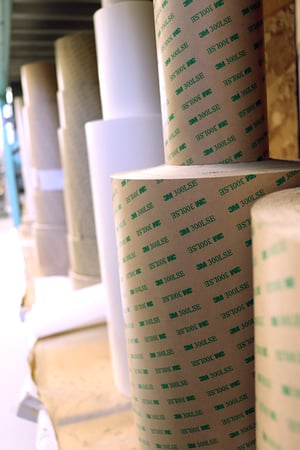 A wide range of adhesives are available in nameplate and label manufacturing. Common specifications call for the 3M brand, but equivalent alternatives can be identified as well.
Pressure sensitive adhesive is the most common solution for attachment for metal nameplates and plastic labels or overlays. Special purchase heat activated adhesive can be reviewed as well, but these are not typical. Recommendations are made based on the substrate the nameplate is applied to, taking into consideration any environmental exposure and the specific guidelines the bond needs to meet.
Pressure Sensitive Adhesive
Pressure sensitive adhesive is also referred to as peel and stick. In this process the adhesive is supplied with a liner that is peeled off before placing the part onto the product, using a degree of pressure to have it stick in place. This type of adhesive can be applied overall or in selective areas - great for transparent windows and overlays.
A pull tab or tear tab can be used to ease in the removal of the liner during assembly. The liner can also be slit to simplify the assembly process.
Heat Activated Adhesive
Certain surfaces like glass or some plastics may not respond to pressure alone. For these instances, a heat activated adhesive can be a great option. This type is also referred to as thermo bond, given that temperature, pressure and dwell time combine to achieve the bond between the nameplate or overlay and the surface of the product. This adhesive can also be overall or selectively applied, depending on the design requirements.
Nameplate Attachment with Adhesive
Understanding the basic options for securing a nameplate or label to your product is a key part of the design process. Early communication with clear understanding of the environment and application needs will help to keep cost at a minimum.
How Can We Help?
Our Customer Care team is available to help with recommendations and identifying the best adhesive solution.
Related Posts
Adhesive Solutions for Rough Surfaces
Getting Nameplates to Stick to Powder Coated Metal
5 Tips for Storing and Applying Nameplates with Adhesive
How to Pick the Right Adhesive for Nameplates
5 Questions to Ask for Every Nameplate or Label Project
Originally published August 1, 2018; updated March 11, 2021 for clarity and resources.