Embossing graphics or logos in metal nameplates is a great way to add dimension and focus to the brand. That is not the only reason to incorporate embossed areas, however. This enhancement is a permanent way to ensure that important text is featured and stands out for metal information tags.
The two examples below showcase this option well. Both of these aluminum information plates are designed for exterior application. The embossed text provide important directions for the operation or use of the space. What a great way to ensure these details will stay in place and be visible even after many years of exposure to the elements.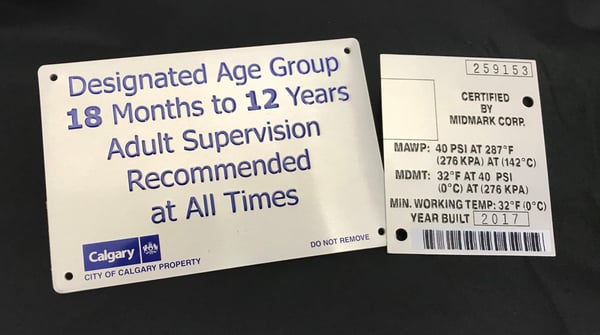 Embossed elements of metal nameplates are a result of custom tooling operations that push the designated graphics or text up from the surface of the metal. The crispness or height of the emboss is dependent on the type and thickness of the material.

How Can We Help?
Do you have an application that can benefit from embossed graphics? Request samples or submit your information for a quote and let our skilled team will work with you to identify options to support your brand strategy.