Keeping track of inventory and equipment is an important part of asset control for many companies. Serialized metal tags and plastic labels for equipment identification are great solutions for this. The numbering can be accentuated with bar coding if necessary. This post reviews common solutions for serial numbering on metal and plastic substrates.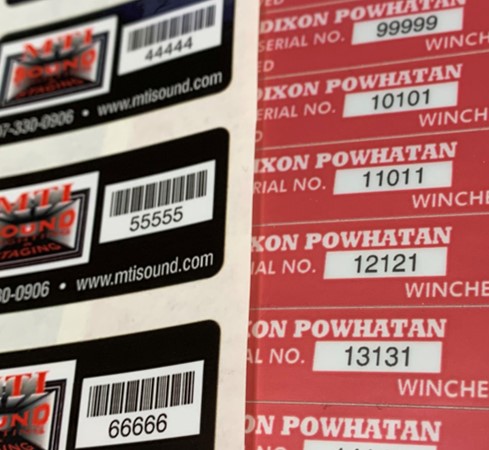 Serialized Data Plates and Asset Tags
The specific markings for data plates and asset tags are customizable for fields that can be static or variable. This data can be configured to be filled in during production or left blank to allow you to stamp, laser, or engrave on your end. Additional field for bar codes, QR codes, and other data such as voltage and temperature ratings can be included and should be noted in customer-supplied artwork.
Serial-numbered labels and other variable data graphics or codes can be produced on flexible material like aluminum foil, polyester, vinyl, polycarbonate. Alternatively, lightweight aluminum is a popular choice for applications where high heat, grease, vibration, or other harsh conditions exist.
Numbering is most commonly achieved through digital or screen print processing. Durability with lamination or protective top coats ensures the graphics are visible and long lasting.
Industrial labels made on plastic substrates are supplied with pressure sensitive adhesive. These labels can be supplied as individual parts, strips, or kits to facilitate assembly operations. Serialized metal tags have option to be supplied with or without pressure sensitive adhesive. They typically are packed tight in bundles or packs specific to the customer need.
How Can We Help?
Need help designing an effective and durable ID Plate with serial numbering? We've got you covered! From custom tools built in-house to graphic layout assistance, we will work with you every step of the way.
Related Posts
How Asset Tags Help Your Bottom Line
Common Elements of Industrial Data Plates
High Impact Variable Data Options for Metal Nameplates and Plastic Labels
Every Day Uses for Industrial Data Plates