Many of the nameplate projects that come our way involve showcasing a brand by way of the company logo or product name. The other side of things for identification products is industrial equipment and the very important information that is communicated with data plates. Here are some of the most common elements that routinely come into play when designing and calling out specs for these parts.
What Material Should be Used?
It is important to consider the right material that is used for an industrial data plate. Consider if the equipment is exposed to harsh weather or chemicals. Options are available on both metal and flexible substrates. However, the most common requirements for data plates is either aluminum or stainless steel.
Data plates, tags and identification plates made from durable materials need to communicate the right information for the specific piece of equipment. They need to be high quality, long lasting products that will withstand environmental or application challenges such as vibration or exposure to dirt, grease, and fuels. The ability to add serial numbers or site-specific attributes with laser or self-stamping processes is also important.
Metal data plates are ideal for equipment installed in harsher environments, near heat, or those exposed to vibration and grease such as metal valve plates or pump tags in boiler rooms.
Industrial labels made from flexible material are ideal for applications that need to showcase serial or model numbers, electrical rating specs, load rating or date of manufacture on a variety of equipment.
Learn more about the various substrates that are offered in the Nameplate Substrate Guide:
Type of Information that is Called Out
Data plates and tags communicate essential information to operators, installers, and equipment users. In addition to company information, these types of information plates need to be durable with specific markings for equipment. These details feature static and variable copy/data, machine-readable barcodes or QR codes. Typically, black ink is used for these elements, but other colors can be looked at for feasibility on a case by case scenario.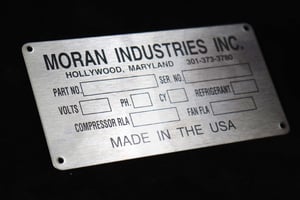 Static data examples:
Load capacity
Maximum temperature
Model number
Maximum pressure
Electrical rating
QR codes
Bar codes
Sequential numbering can be configured into the production process with printing, stamping, or laser operations. The customer can also finish marking data plates on their end with laser or stamping equipment.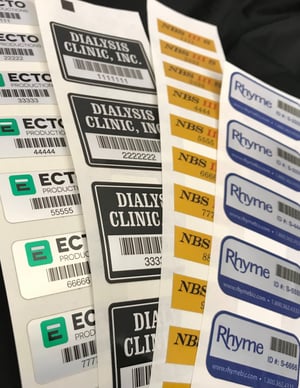 Variable data examples:
Serial number
Inventory asset number
Device number
QR codes
Bar codes
The primary method of numbering uses digital printing; however, metal stamping and screen-printing processes allow color-filled, pre-numbered data plates and barcode tags that are easy to read and weather resistant.
Attachment Method
Metal industrial data plates commonly are configured with mounting holes to attach to the equipment with rivets or screws. Sometimes a pressure sensitive adhesive is adequate. The specific environment and application will help determine the best solution.
Extreme applications with exposure to outdoor environments or harsh chemicals may require extra attention to secure attachment. In these cases, combining pressure sensitive adhesive with rivets or screws to attach metal data plates to industrial equipment is an effective solution.
Industrial labels made on flexible substrates are supplied with pressure sensitive adhesive. These labels can be supplied as individual parts, strips, or kits to facilitate assembly operations.
Pulling it All Together
Now that we have stepped through some of the common elements of industrial data plates, you should see that many of the same considerations exist as when designing nameplates for brand awareness. Material choice, type of information to include and attachment are essential items that should be part of the discussion and artwork spec for industrial data plates.
How Can We Help?
You provide the necessary information for your equipment data plate. We send an electronic proof for your review and approval before production to ensure accuracy and readability. We work with you to achieve the most economical and effective solution. From start to finish, we're here to partner with you.
Related Posts
Common Nameplate Attachment Options
Tooling Options for Nameplates and Labels
Die-Cut Components for Shielding, Sealing, and Spacing
Common Shapes for Nameplates and Labels