Gold is one of the colors that can elevate the perceived value of a product. It is the color of prestige and wealth so it goes along with a feel of elegance and luxury.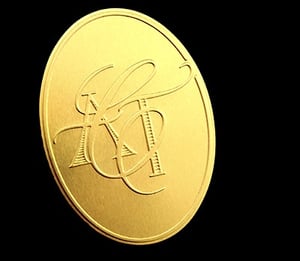 I came across this stunning piece today and it made me stop for a second. The semi-gloss finish on anodized gold aluminum achieves an elegant look. Another eye-catching element to this nameplate is that the embossed graphic uses a script font which grabs attention and makes you focus on it for just a little bit. What a great example of how a metal nameplate can enhance a logo!
Are you looking for ways to enhance your product identification with a stunning nameplate? Let us help!