Luxury items and premium products expect packaging and first impressions to match the level of prestige that is often marked with a higher price point. Metal placards, book covers, bottle embellishments and badges help elevate the brand and along with it, reinforce the value of the product.
Opportunities to showcase your brand pop up in any number of unique places! Make
your customers feel like a VIP with a distinctive keepsake. Consumers become brand evangelists when they have positive interactions and experiences with your product or service.
Patterns, custom colors and special effects are attractive design elements that add interest, draw attention, or otherwise enhance metal badges, covers, and trim pieces. These options provide flexibility in creating a unique look.
The possibilities are endless when you consider all the different ways that metal surfaces can be decorated. From precise technical patterns to woven carbon fiber structures, whatever look you are striving for can be reviewed.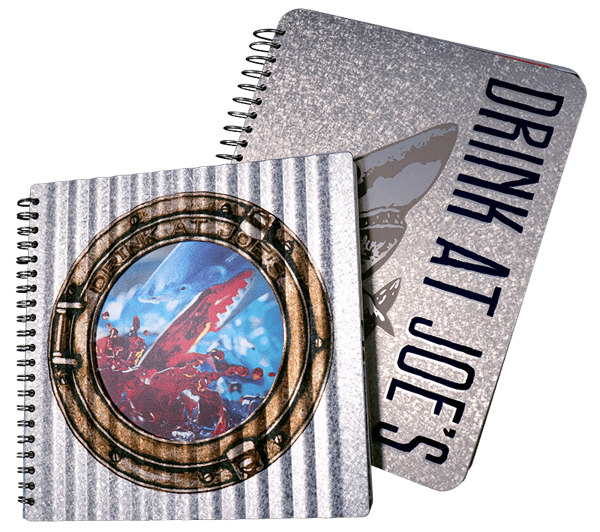 Process Options = Differentiation
A variety of decorating and process options for custom promotional products means nearly endless options to differentiate and stand out. Be unique and make your mark in a way that will be remembered. Some options available:
Embossing adds depth and gives a tactile feel above and beyond printed graphics.

Patterns create a unique look. Select from a library or develop a custom finish.

Doming provides a 3D look that stands up in many environments and applications.
How Can We Help?
Any application you can imagine promoting your brand is possible to incorporate
intriguing tip-ons or premium metal badges. Create a unique look using metal or flexible substrates. Expert design, rapid prototyping, and diverse fabrication options are available for your customized display and promotion solutions.
Related Posts
Where and When it Makes Sense to Use Patterns
3 Ways to Dress Up Metal Nameplates for Brand Awareness
Aged Metal Look Translated to Metal Surfaces