While aluminum and stainless steel are most common metal requirements for nameplates, brass is also a popular choice. Products from industrial equipment and cases to furniture and product displays can benefit from the durability and elegant look of brass for product identification.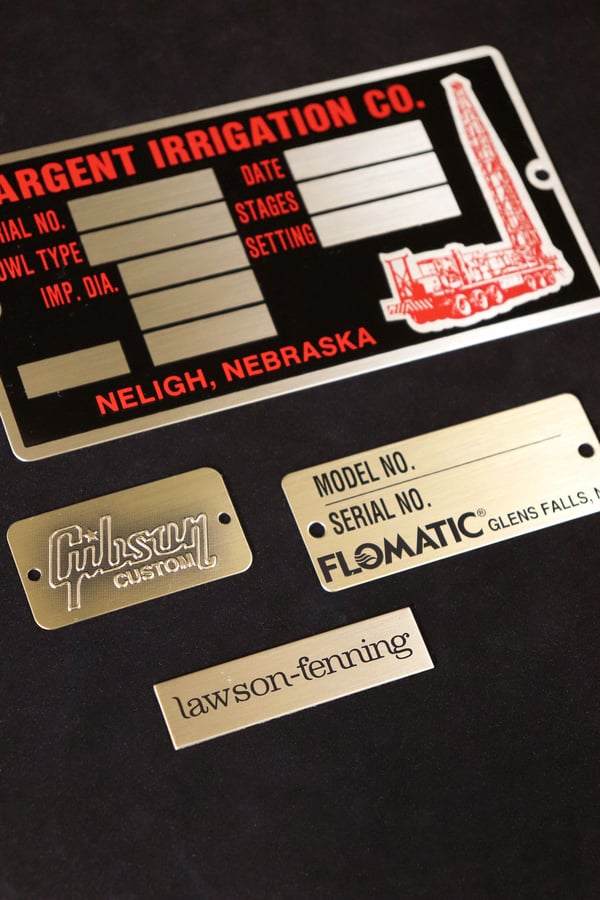 Brass Metal Nameplates
Deciding on the material for metal nameplates does not need to be stressful. Brass is one of the metal materials that can be used when an industrial information tag is needed. It also can be used as an elegant nameplate. Some of the reasons to use brass for product identification include:
Brass has Natural Gold Color - If the product that the nameplate will be put on has brass features, it can be important to use brass for consistency in the look. Using brass means the edges of the part will match the surface color - other metals like aluminum have a silver edge that may be objectionable.

Brass is Durable - Brass is a strong material that will stand up to indoor and outdoor applications. It should be noted that while the face of nameplates and tags made from brass are coated for protection, the edges remain raw metal. This means that oxidation and corrosion can happen at the edges.

Brass is Malleable - Brass can be formed to take on the shape of the product housing. Embossed graphics may not be as sharp or defined as they would be on harder metals like aluminum or stainless steel.
Brass Looking Nameplates on Aluminum
Sometimes brass is not the best solution for metal nameplates - perhaps sharp embossed graphics are needed, or the application needs to be able to stand up to a corrosive environment. When this is the case, aluminum is a great alternative! A transparent gold tint can be printed onto the surface of the aluminum so that it takes on the look of the brass material.
How Can We Help?
A full array of in-house services with knowledgeable staff work with you to identify the most cost effective and efficient manufacturing process and material to produce a quality part that meets your unique specifications and schedule. Our Nameplate Substrate Guide is a good place to start if you are not sure on the material for your product identification. Let us help you!