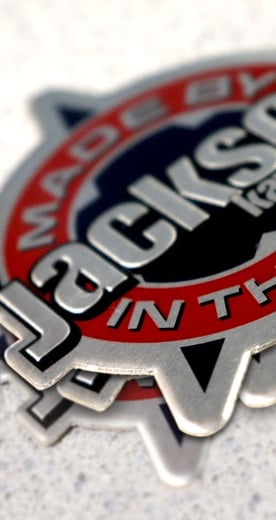 Designing your nameplate so it aligns with your product brand strategy strengthens your message in the marketplace. A typical question from product designers centers on ways to evaluate options for their nameplate or label. This posts offers three ways for you to do just that.
Sample Review
One of the most common ways to narrow down choices for the design of nameplates or labels is to review representative samples and pick out the decoration elements that are of most interest.
You may find it useful to look to how your competitors are branding their products. It can also be helpful to look at other industries and products. What works to brand a piece of industrial equipment may also be the graphic solution for a nameplate on a consumer electronics product.
Reviewing existing samples can spark creativity, allowing you to design a memorable nameplate in line with your brand strategy.
Artwork Proofs
Once you have decided on the size and decoration of your product identification, your next step will be to submit your artwork file for quotation and then purchase order for production. An electronic proof provides confirmation of size, layout and artwork or graphics for your quick and cost effective review. This allows for last minute changes before the order is sent to the floor.
Nameplate and Label Prototypes
There may be situations where reviewing representative samples or an electronic proof are just not cutting it in order for you to make a final decision for your product identification. When this is the case, we can work with you to quote and supply production-quality prototypes. Reasons that it may be necessary for nameplate or label prototypes include:
Fit and Function - Nameplates that are designed for placement into a recessed area or take on the shape of a product can be evaluated for proper fit.

Aesthetic Review - From custom color matching to comparison between substrate materials, the look of the nameplate or emblem is important.

Quality Requirements - Certain applications and customers will need to have first article evaluation before the production run is kicked off. We are prepared and ready to work with you for the required paperwork and quality reports to keep your product launch moving.

Testing Samples - From confirmation of adhesive for attachment to exposure to specific chemicals, it is beneficial to be able to order prototype quantities of your nameplate before releasing to production.
Production quality prototypes and samples allow you to fine tune designs and ensure the right look for your nameplate, label or overlay.
How Can We Help?
Ready to start reviewing options for your next nameplate or label? We have a team of people ready to help and guide you through the best solution for evaluating options for your product identification.