Before settling on the material specs of an equipment ID plate, there is important discussion and decisions needed centered on its application and the type of information that needs to be displayed. No matter the type of environment, durability and readability of the plate is a must so that there is confidence in it lasting throughout the equipment lifespan. This post reviews four common uses for ID plates.
1 - Safety Information

Government agencies such as OSHA and ANSI have strict rules. Communicating critical information for safe operation and maintenance of industrial equipment deserves careful consideration.
Generators, punch presses, pumps, heaters, and conveyors are examples of industrial equipment with ID plates that display safety information.
2 - Asset Tracking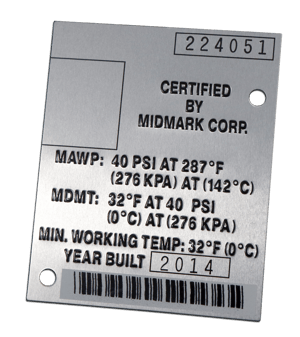 Keeping track of inventory and equipment is an important part of asset control for many companies. Markings for data plates and asset tags are customizable with static or variable data fields. These can be configured to be filled in during production or left blank to allow you to stamp, laser, or engrave on your end.
ID plates with asset information help keep track of preventative maintenance, purchase and requisition, audit and physical verification, and scanning of equipment as it moves from place to place.
3 - Equipment Identification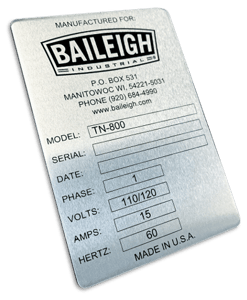 Companies with heavy equipment or sensitive instruments need to be sure that safety is communicated to the employees and customers who use and operate their products. This type of product identification is different than brand-building nameplates or labels. The information that is displayed can be as simple as the model and serial number of the equipment, or as complex as min/max values for weight and voltage.
Common Equipment Identification:
Manufacturer Name
Model Number
Serial Number
Certifications
Min/Max Values
4 - Branding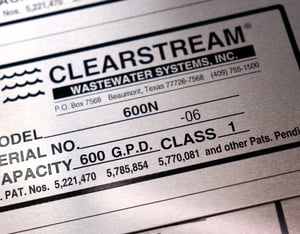 Many times ID plates are located on the backside of equipment. Their key purpose is to provide information and specs related to proper use or maintenance of the piece of equipment. When the ID plate is located on a main surface, many companies take advantage of this placement to also include corporate branding into the design.
ID plates can be customized with graphics including company logo, contact information, or any other image to represent the brand.
How Can We Help?
Determining the application and type of information for your ID plates takes communication. We have a team of experienced professionals ready to work with you to make sure that your equipment displays the right message.
Related Posts
3 Reasons Metal Warning Plates are a Better Choice
How Asset Tags Help Your Bottom Line
How ID Plates Help Communication
Effective Metal Data Plate with Product Branding