A common question that is asked of our Customer Care and Sales teams centers on ways to improve the look of a metal nameplate. There are several design elements to keep in mind: shape, size, color, etc. Beyond this, consider how incorporating a border to the graphic design can enhance the look of your nameplate. Here are some great examples that effectively use a border to increase the impact of their product identification.
How Metal Nameplates are Enhanced with Borders
To understand how borders can enhance your product identification, you first need to decide the purpose for the border. Are you looking to draw attention to a specific area of the nameplate - perhaps a serial number or brand name? Consider placing a border around this area. Borders create a focal point. They can be as bold or subtle as necessary to convey the necessary message.
Any border could potentially be affected by standard printing tolerances and registration between the decorated area and the cut edge of the part. Therefore, we recommend the graphic allow for a border width of .045" (1.143 mm).
Examples of Metal Nameplates with Borders
An embossed border creates a visual and tactile dimension to metal nameplate design. This can be seen on the below example where the oval shape is enhanced by a bright embossed bead that contrasts nicely with the matte silver background. It frames the logo and draws attention to the brand.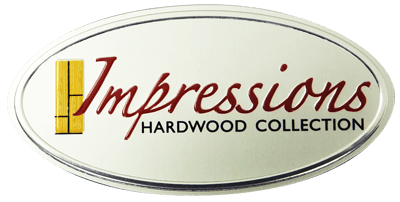 A border can be a decorative element to the design. This under the hood metal badge has a flag graphic pattern that serves as a finished edge to the part. The racing flag motif speaks to the power and speed of the engine that this part sits in. The decoration is simply printed onto the surface, allowing the embossed brand COBRA to take center stage. What a great way to add interest to the design!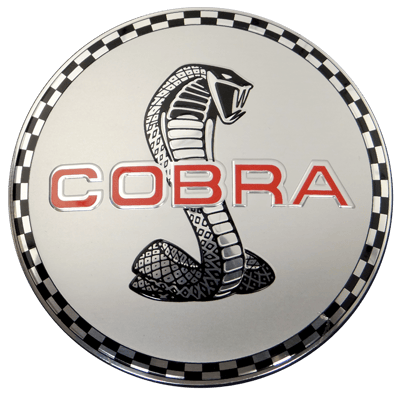 Incorporating a silver border is one way to disguise the cut edge of metal nameplates. Instead of being a distraction, the silver becomes part of the intent and look of the part. This is a great way to make use of the natural metal essence in the nameplate, accentuating the rest of the decoration with some flair and elegance.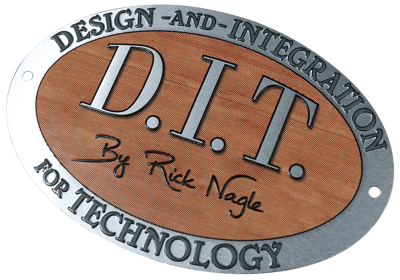 A border can be used to separate areas on the nameplate. For instance, this industrial ID plate makes use of a thick blue border around the entire perimeter of the part. For the serial number a thin blue border is printed so that it frames the important graphic detail of the serialization. This is a classic use of a colored border for nameplates.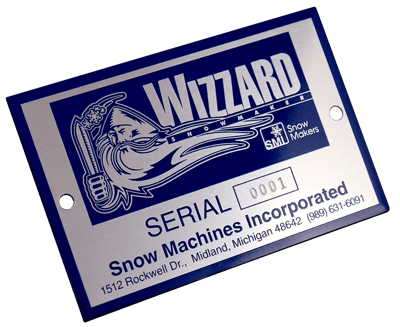 How Can We Help?
As you can see, there are several ways that borders can be used to enhance your product identification. Need help figuring out the best way to make use of them in your design? We are ready to review and provide assistance to you! Check out this design resource and learn other ways to differentiate your nameplates with finish options!
Related Posts
3 Ways to Hide a Raw Edge of Metal Nameplates
Embossed Metal Nameplates Explained
High Impact Variable Data for Nameplates