When it comes to designing effective industrial equipment information plates and tags, shape is one of the elements that is reviewed. The size and shape of a plate is dependent on the unique application and amount of information that needs to be communicated. There is no one size fits all solution. Rather, this is one of the great things about custom products. Any data plate that is sourced through McLoone is made according to your specifications in material, dimensions, and artwork.
Metal and Plastic Material Options
Choosing the right material for industrial data plates means understanding the application and requirements. Aluminum and stainless steel are most common materials for equipment tags and serial plates. A variety of metal and flexible material options is stocked to provide the right protection along with the functionality, durability, and custom decoration needed for your design.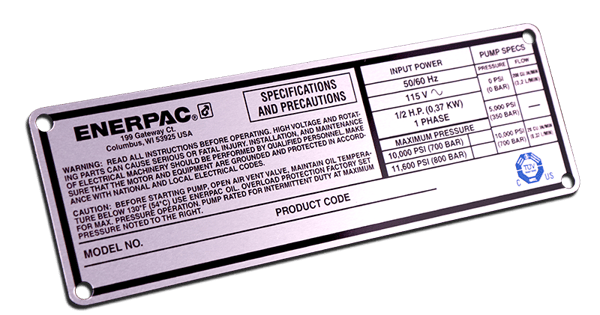 Size and Shape Options
A library with thousands of dies means a variety of standard size and shape options are ready to go. Square and rectangle shapes are most often called out for industrial equipment plates and tags, but circle and ovals are also possible. Many are configured with multiple pierced holes for mechanical attachment with rivets or screws.
Color Options
Metal data plates usually have just one or two colors for graphics and text. Pay attention to whether there are regulations or industry compliance calling for specific colors for safety, or
Regardless of whether your product design uses a regulated or custom coordinated color scheme, the artwork provided should provide clear direction. This includes referencing specific color information (PMS or target color number), the substrate material and gloss requirements.
Pulling it All Together
When all is said and done, designing effective equipment plates or tags comes down to communication of critical information. Customization options for ID plates are wide open - from the type of material that is used, size and shape, as well as color combinations. You control the look. It can simply communicate information for proper and safe handling or it can effectively promote your brand in the market.
How Can We Help?
From proper use and maintenance to information for voltage, pressure, and temperature ratings, companies around the world use industrial data plates to communicate critical information. Need help designing an effective and durable ID Plate? We've got you covered! From custom tools built in-house to graphic layout assistance, we will work with you every step of the way.
Related Posts
Using a Unique Shape for Your Metal Nameplate
Outdoor Metal Nameplates eBook
Customized Durable Safety Labels eBook
Metal Data Plates eBook
Does Color Matter for Nameplates and Labels? Yes and No