Being outside, enjoying sunshine and warmth is something that typically brings a smile. Designing and finding a nameplate that stands up to being outside should bring a smile as well! These types of nameplates and badges often have specs that require the material as weatherable.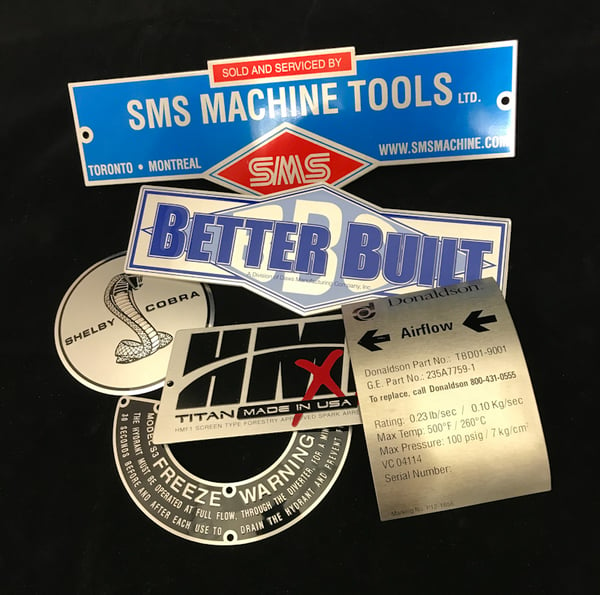 Weatherable Conditions for Metal Nameplates
Any product that could be exposed to the elements will need its nameplate to be able to handle those specific conditions. Exterior nameplates for products like industrial pumps, sport vehicles, motorcycles or under the hood badges can be subject to harsh conditions including
Vibration

Up kick of sand or rocks

Dents

Heat or cold

Sunlight and UV rays

Rain, snow, saltwater
These conditions require certain topcoats for best results and longevity of the nameplate. Aluminum and stainless steel both are durable materials that are suitable as weatherable solutions.
Metal Nameplate Options
Metal is a durable material suitable for product identification across all markets, especially products exposed to harsh environments.
Aluminum - metal of choice for durable, cost effective nameplates, badges, and product labeling. It can take on the appearance of other metals like brass or stainless steel by applying transparent tints of color to the surface.

Stainless Steel - popular substrate for product identification in indoor or outdoor applications, usually within harsh environments. It is corrosive and dent resistant. Its strength makes stainless steel ideal for industrial settings and applications.
How Can We Help?
Designing nameplates and labels does not need to be a source of frustration. Be aware of what type of environmental exposure is relevant and communicate this as early in the project as possible. Reach out and let us help finalize the details so that the resulting part meets expectations in both quality and price. We have a variety of material and processing options for effective application to your product.
Related Posts
3 Considerations for High Heat Exposure Metal Badges
Factors to Consider for Exterior Metal Badges
Metal Nameplate Decoration Options
Weather Conditions for Nameplates and Labels
Which Metal is Best for Nameplates?