Product identification with application in outdoor environments have unique design considerations. Exterior nameplates for products like industrial pumps, sport vehicles, motorcycles or under the hood badges can be subject to harsh conditions including vibration, up kick of sand or rocks, dents, heat or cold etc. Here are some common factors that come into discussion for these scenarios.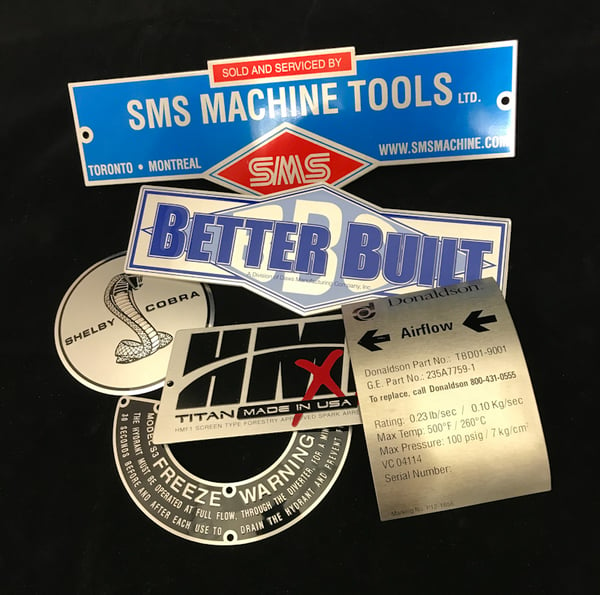 Formulated Topcoats Protect Metal Badges from Elements
Exposure to the elements like sun, snow and dirt can be brutal for the longevity of the look for your aluminum badge. Knowledge of this helps make sure that the correct decorative processes, ink systems and protective top coats are used to make sure that your brand identity stays looking good for years.
Hide Raw Metal Edges
When parts are cut out of the sheet of metal, the edges are raw aluminum. These areas do not have the protective top coat. For exterior applications, this can be a concern. One option to hide the raw metal edge include fitting the nameplate into a recessed space for protection. Another is to design the badge with a formed over edge so that there is no exposed raw metal.
Secure Attachment to Mating Surfaces
Exterior surfaces oftentimes are treated with powder coating or some other painting treatment in order to protect that surface from exposure. One of the most common solutions for this is to use a pressure sensitive adhesive so that the aluminum badge sticks to the mating surface. Foam adhesive is an effective option to insulate against vibration and to fill a gap between the mating surface and the nameplate. Other options can be reviewed to include attachment with rivets or molded carriers.
How Can We Help?
Understanding the environment that your exterior badge will be exposed to helps make sure that proper decorating processes, top coats and adhesives are used. Our Customer Care team is ready to talk with you and help identify a durable and effective solution that will stand up in the most brutal setting.
Related Posts
3 Ways to Hide a Raw Metal Edge of Metal Nameplates
Common Metal Nameplate Attachment Options
How to Pick the Right Adhesive for Nameplates
What is the Right Way to Design a Metal Nameplate
Metal Nameplate Decoration Options