The last few weeks have been different on many levels for every one of us. There is not a single industry or profession that has missed being affected by the pandemic that is COVID-19. This time of remote working is opening the door for needed updates, revisions, and complete rebranding initiatives. We have seen an uptick in customers reviewing their product nameplates and labels. If you find yourself looking at ways to freshen up your product identification, we are here to help. Here are some of the things to keep in mind as you evaluate your needs.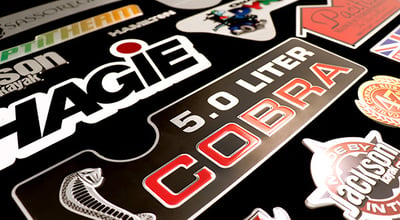 What type of update is needed for your nameplate or label?
Depending on what your objective is for updating your product identification, you may need to start from scratch in the design process. For instance, if your product has changed material, the makeup and process for producing your nameplate may need review. The type of surface can make a difference in the adhesive that is used. Or if the label traditionally has been placed on a flat surface, and now there is a form or bend, this may be a good indicator that the label substrate may need to be changed. These examples are more extreme and require more discussion, potential feasibility reviews to determine best recommendation for adhesive, material, etc. To bring these types of updates to production may require updating order releases, looking at your planned usage or forecast, and current inventory levels to determine when it makes sense to go live.
Other updates may be as simple and basic as changing graphics to be compliant with recent regulatory guidelines. Or perhaps you have changed logo colors. These are basic artwork changes that simply require you to submit the updated art files and we will confirm any pricing changes. These can often be worked in as a running change and not affect open orders and releases.
Nameplates are an Extension of Your Brand
Staying in front of your customers and standing out from the competition is a typical objective for brand awareness strategies using nameplates and labels. A recognizable logo printed onto an eye-catching metal nameplate can be that element that makes someone stop and look at your product versus the next one of the shelf or in the aisle.
Your brand is one of your most valuable assets. The combination of your logo and brand colors sends a message that your company is unique. It reinforces the type of product you are placing on the market. This is true for consumer products that appear on retail shelves as much as industrial products that are found in the field. Does your nameplate speak the right message?
How Can We Help?
Brands across the globe have trusted us to produce durable and attractive nameplates, labels, and overlays that work hand in hand with their brand strategy. Whether you are just starting out with a project or looking for a facelift to update the look, we have a team of professionals ready to work with you to design an essential nameplate that conveys the right message.
Related Posts
5 Reasons You Need a Nameplate
Is Your Nameplate Memorable?
Where and When It Makes Sense to Emboss Metal Nameplates
5 Questions to Ask in Every Nameplate Project
How Great Product Identification Can Lead to Positive Brand Awareness