Product identification is a big topic for designers and marketers who want to make an impact with their brand strategy. The look of the labeling on the finished product helps to sell it in the market. An attractive nameplate speaks to the price point and value of the merchandise. Did you ever consider how important identification is for machinery and industrial equipment? Here are six examples of industrial nameplates that are essential but often overlooked.
Safety Labels / Warning Labels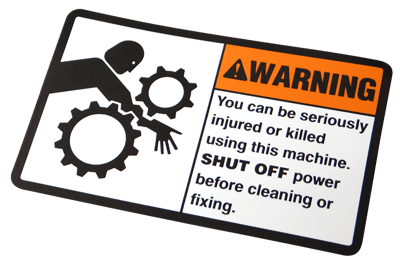 Product safety labels play an integral role in your company's product safety and liability prevention efforts. This means people's lives and your company's financial well-being are on the line. With the rise in product liability litigation based on "failure to warn" over the past several decades, safety labels have become a leading focal point in lawsuits faced by equipment manufacturers.
Common applications where safety labels are found include:
Industrial Equipment
Heavy Equipment
Personal Protection
Fall Protection
Electronics
Safety labels are a key part of the information for use provided by equipment manufacturers to users and are often the only information that many users get to see. This makes the design of safety labels critical to their effectiveness. There is as much risk in the under-use of safety labels as there is in the over-use of safety labels. Often, manufacturers select generic labels easily available from catalogs, missing the opportunity to design labels specific to the equipment and the hazards present.
Data Rating Plates / Specification Plates
It is vital to quickly recognize safe operating instructions for industrial equipment. Improperly labeled equipment may cause equipment or component failure. This can lead to poor performance, damage to machinery, and potential injury to workers or consumers. Done right, data and serial plates have clean, simple, and easy to read designs so that important information is communicated - even in the harshest of environments.
Data plates are configured with the ability for us to print all the information. There are applications where it makes more sense and is more efficient for blank tags and plates to be produced so you can fill in the information on your end.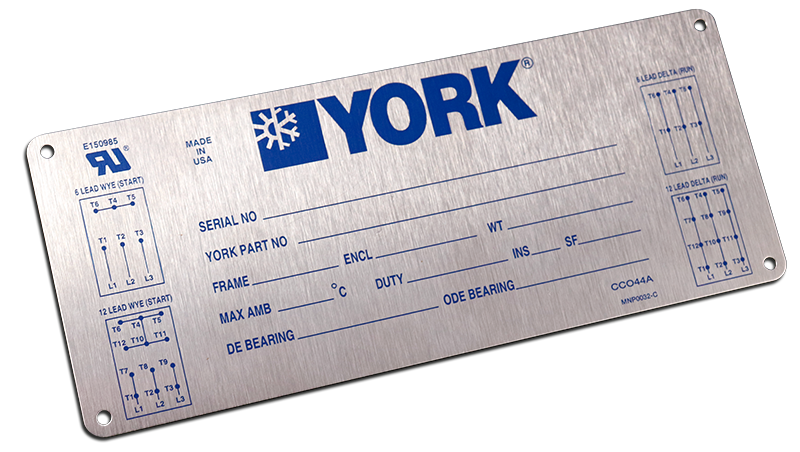 Serial Plates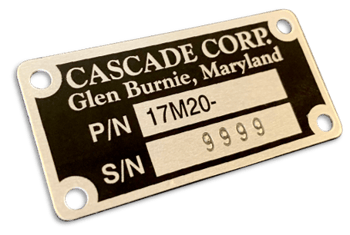 Assigning a number to a piece of equipment is just one of the ways to communicate with suppliers, operators, maintenance persons, and retailers. A serial nameplate mounted onto equipment provides consistent information about it. The information can be as simple or detailed as necessary, including:
Your Company Name
Make or Model Number
Equipment Serial Number or Batch Number
Date of Production or Shipment
Having a serial plate attached to your equipment means that important information is easily identifiable. This is helpful for communicating warranty information, verifying equipment-specific details, confirming logistic information, and more.
Control Panels and Graphic Overlays
A metal panel is the surface between your product or equipment and the user. Trim can be functional or purely decorative to add to the perceived value of the product.
Metal panels, overlays, graphic fascias, trim, etc. are highly adaptable to a wide range of industries and applications. They are durable and versatile with the ability to withstand extreme conditions. Manufactured from aluminum or stainless steel, they provide exceptional performance with increased aesthetics. High quality branding, graphic elements, and surface finishes combine to give you the opportunity design an attention-grabbing panel for your product or equipment.
In addition to metal, rugged plastic overlays and trim are an attractive option, even in demanding environments. Plastic overlays are printed below the surface for durability and can be customized with embossing, finishes, and lighted graphics.
Property and Asset Tags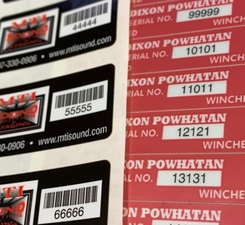 Property and asset tags provide cost effective solutions to keep track of inventory, high dollar assets, and valuable equipment in a variety of scenarios. These types of resources carry risk of misplacement, loss and theft. A great majority of companies today use asset tags to label their tools, electronics, and equipment to stay on top of these risks, achieving higher security and visibility. An asset tag is typically designed to be a "back of the product" label - in other words, not something that is highly decorative. The information that is shown is usually minimal - it may include a company name and logo, but does not have to. Some companies may opt to embed their information into scan-able codes.
Serial-numbered labels and other variable data graphics or codes can be produced on flexible material like aluminum foil, polyester, vinyl, polycarbonate. Alternatively, lightweight aluminum is a popular choice for applications where high heat, grease, vibration, or other harsh conditions exist.
Numbering is most commonly achieved through digital or screen print processing. Durability with lamination or protective top coats ensures the graphics are visible and long lasting.
Equipment Identification Nameplates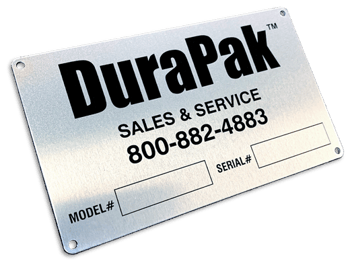 You can only make a first impression once, and your nameplate is undoubtedly one of the most important pieces of your brand. Industrial equipment is not typically something that is thought of as premium or brand-building. It is not something that consumers flock to for holiday sales or the next model release. Even so, equipment identification is opportunity to display your company information. A basic ID plate is another avenue to keep your company top of mind for your market. Communicate with your retailers, consumers, and operators with proper display of your company name, logo, address and contact information.
How Can We Help?
McLoone offers a diverse selection of material, processes and attachment solutions to effectively communicate the message and value for your brand. Thousands of brands trust us to deliver high quality product identification, ID plates, custom nameplates, labels and graphic overlays. Let's get started on your durable graphic solution.
Related Posts
Common Metal Options for ID Plates
4 Common Uses for Metal ID Plates
6 Industries Using Metal Nameplates, ID Plates, and Signage