When you are looking for an easy to work with label, it can be helpful to review a flexible substrate. One of the more common label materials offered is Polyester (otherwise referred to as MYLAR®). Labels made from this PET plastic are thin, durable and cost effective for all types of identification needs. Some examples of labels made from polyester include warning or caution labels, product overlays with consumer instructions as well as decorative branding.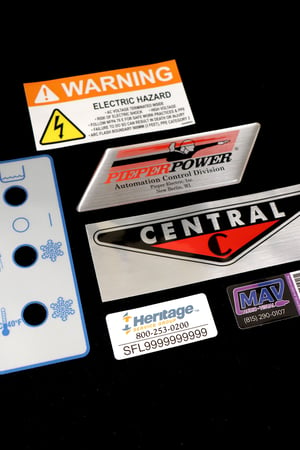 Some of the advantages of polyester labels include:
Flexible material for easy application to flat or curved surfaces

Suitable for indoor and outdoor use

Heat, abrasion and scratch resistance

Resistance to chemical, UV and corrosive materials

Easy to configure with variable data such as serial numbers and bar codes
Polyester labels are available in clear, white and silver with high gloss or matte finishes. Mylar® can also give the look of brushed metal for labels. Imprintable and reflective material can also be reviewed. Decorating options including full color printing, embossing, doming and serializing are available.
How Can We Help?
Not sure where to start? That's ok! We work with you to understand your product identification needs and then identify materials, processes and tooling options that are high quality and cost effective. We're here to help your brand stand out. Check out our Nameplate Substrate Guide for starters.