Promotional and point of purchase (POP) labels are designed to attract attention - not unlike consumer product designers looking to differentiate the end product from others on the shelf. This may seem like a daunting task when you consider what the display signage or product badge will look like. Consider how incorporating a unique pattern or custom finish into the design can enhance your branding strategy.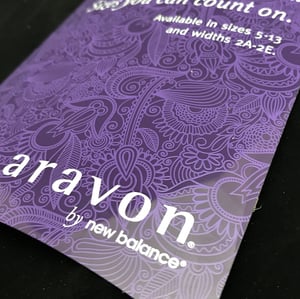 Background finishes for POP and product design can be strictly precise with a repeatable pattern structure. They can also be completely whimsical and random like what this shoe display sign shows. The bright purple color background coupled with a contrasting purple texture and bright white graphics make this a stand out piece. What a great example of how open the possibilities are - you are not limited to boring or expected decoration!
How Can We Help?
Not sure how to incorporate a pattern into your product identification or decorative trim? Our Customer Care team is ready to review the specifics of your application and help identify a solution. Bring your creativity and imagination and see what can be achieved to enhance your next project!
Related Posts
Technical Finishes on Metal Surfaces Enhance Nameplate Design
Weathered Finish Adds Interest for Aluminum Surfaces
Contrasting Gloss Finish Elevates a Brand
Custom Metal Promotional Items eBook