A common question when designing aluminum nameplates and badges involves how to ensure a secure attachment to the end product. This can be a concern with any shape of a nameplate and on any type of product from industrial equipment and furniture to medical equipment and consumer electronics.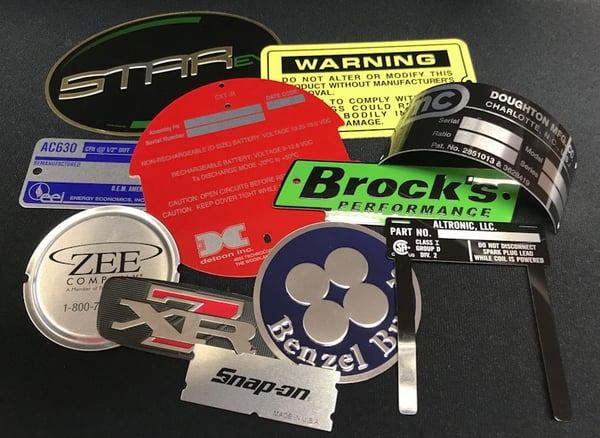 Attachment is important to review because you want to be sure that the nameplate stays in place for the life of the product. This video explores some of the most common solutions that provide secure attachment of product identification.
Pressure Sensitive Adhesive

Molded Carrier

Pierced Holes

Custom Designed Notches or Tabs

Deciding which option is best will depend on your specific application. Many times the answer is simply to supply the nameplate with a peel and stick adhesive or to pierce holes which allow for assembly with rivets or screws.
Some situations will require more in depth review. What type of surface is your nameplate or badge being applied to? Is there concern for high heat or vibration? Will the metal nameplate be exposed to grease or chemicals? Is the product used indoors or outdoors? Are there specific safety requirements that need to be met?
How Can We Help?
McLoone is a full-service manufacturer of product identification for OEMs and printers. Brands large and small have relied on us for over 60 years. We'll work with you to identify an economical choice that is engineered to your specific application so that your metal nameplate stands the test of time.
Related Posts
Common Adhesive Options for Nameplates and Labels
Critical Alignment for Metal Nameplates
3 Considerations for the Design of Nameplates and Labels