Many consumer products and industrial equipment have strict rules and regulations for communicating safety and operating notices. Cautionary design standards for warning labels are governed by the organizations ANSI (American National Standards Institute) or OSHA (Occupational Safety and Health Administration).
It can be a challenge to find the right label construction for equipment that is powder coated or exposed to varying temperatures. When you are looking for a safety label, consider working with a manufacturer who can understand the application and its environment.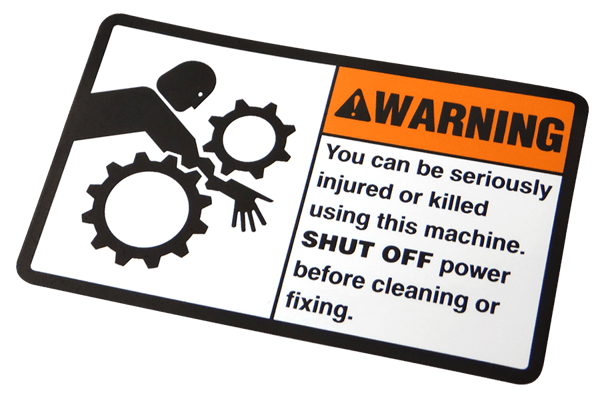 Material options for caution labels range from flexible vinyl, polyester and polycarbonate to strong aluminum and stainless steel. Protective topcoats ensure the labels are heat, UV and chemical resistant. All can be customized in shape and size along with incorporating your corporate logo.
Warning Label Attachment
It is important to make sure that your label stays put. A common choice is to use peel and stick pressure sensitive adhesive for the warning label. Another option is to design the caution plate with pierced holes so that it can be riveted or screwed onto your product. Be sure to communicate your specific requirements so that appropriate recommendations can be made.
How Can We Help?
McLoone has over six decades of experience manufacturing flexible plastic warning labels and decals along with durable metal caution plates. We have a team of people ready to help and guide you through the best solution for evaluating options for your product identification.