Defining color for your nameplate sounds like an easy task. It is important to consider whether the color called out is to be used for background or graphic decoration. The same color can look quite different depending on the substrate and amount of coverage. Overlooking this part of your design can mean costly changes and delay production or launch of your product.
So how do you know if you should call out color as background or graphics for your nameplate? Many times your logo will give an obvious answer. Logo design for letterhead or digital media can translate directly to nameplate design. However, you want to make sure that you understand how the color looks printed on metal or plastic compared with paper or being seen on a digital screen. This is why we request you provide color target with reference to specific Pantone (PMS) color or provide a master that we will develop as a match for producing your nameplates.
Concept drawings, color chips or pre-production prototypes may be provided to help review and make a decision. These options should be discussed with your Customer Care Representative and may require some investment.
Nameplates with Background Color
These nameplates all use color for the background decoration. Graphics may be left silver, making use of the natural elements of the metal or decorated another color. Sometimes a border can be used to create a finished look.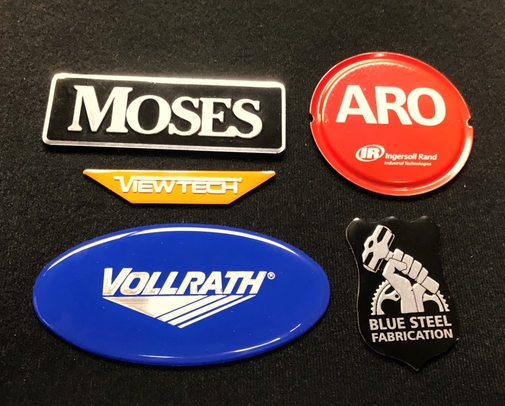 Colored Graphics on Nameplates
The following nameplates draw attention to the graphics with specific colors. In some using color on the graphic instead of the background grabs attention. It is another way to make an impact with product identification.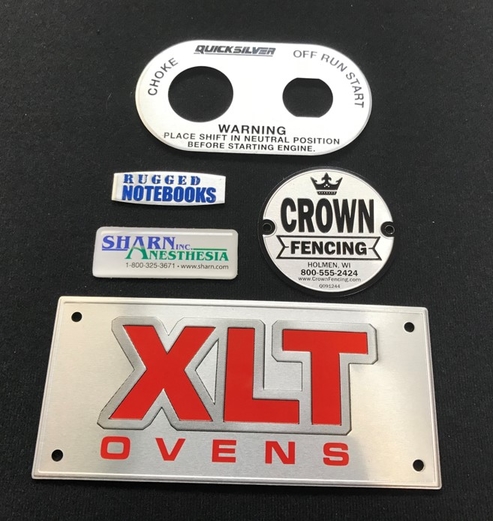 Nameplates with Both Background and Colored Graphics
The nameplates featured here take an interesting twist on using color elements so that both background and graphics are featured. What a great way to play with color!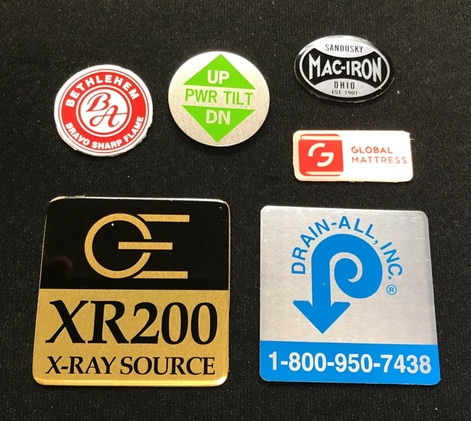 How Can We Help?
Ultimately the decision on whether to call out colors as background or graphics is up to you and how you want your nameplate to look. Taking the time to evaluate and consider the different options for color definition will save time and money while ensuring your nameplate showcases your brand in the correct way. We're ready to assist and help identify the most effective solution.