One of the neatest things about working for a company that helps other companies elevate their brand with attractive nameplates and labels is seeing the variety of color combinations that exist! There are so many ways to incorporate color into a brand strategy and it adds such a pop to the look of otherwise ordinary product identification.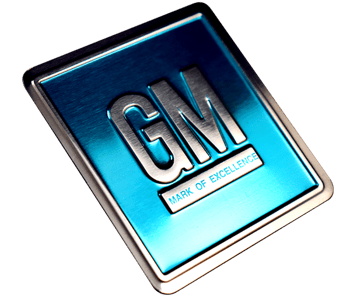 Take a look at this awesome metal badge with its transparent blue tint. embossed aluminum border and graphic! The blue color is transparent - meaning that it allows light to pass through the ink so the metal shows through the color. The transparency results in a beautiful jewel tone. What a great way to add some glitz to a metal nameplate!
Color Considerations for Product Identification
It is important to remember that the base material and gloss level can affect the look of a color. Transparent colors are developed so that the features of the substrate show through. Not all colors can be matched exactly on all substrates. Bright colors and pastels do not always translate well to transparent colors. When in doubt, it is recommended to review custom color chips developed specifically with your target color and on the material of choice for your nameplate or label.
How Can We Help?
Don't let color be a frustration in your label design. Our skilled process team will take direction from your artwork and develop a custom formula to match your target. That formula is kept on file along with your review of acceptable variances to ensure consistency from run to run. Need help defining the color? We will work with you to find the right solution that fits your brand strategy.
Related Posts
Custom Color Considerations for Product Identification
Colorful Brand Labels Enhanced with Doming
Does Color Matter for Nameplates and Labels?