Part of building your brand in the market is being accessible and recognizable. Promoting your brand with a memorable business card is one way to do this. Here are some ways a metal business card can increase the effectiveness of your brand strategy.
Share Contact Information
Basic contact information can simply be incorporated into the artwork for a metal business card. This is very similar to the standard paper card layout; however with metal you have decoration options not available on paper. Metal is more robust and durable than paper, lending itself as a way to elevate your presence in the market.
Be Memorable
One reason that business cards work for networking among professionals is that it gives something tangible to remember an interaction with the other person. A metal business card looks and feels different than paper. It has heft and will reflect light. Using the same branding on your business card as your product creates another layer of recognition for your identity.
Stand Out
Metal business cards draw attention to your brand with stunning decoration on metal. From contrasting gloss levels for a matte versus bright look to custom finish development, possibilities are wide open. This opens the options for self-promotion and gives your brand strategy a boost with a unique leave behind or introduction piece.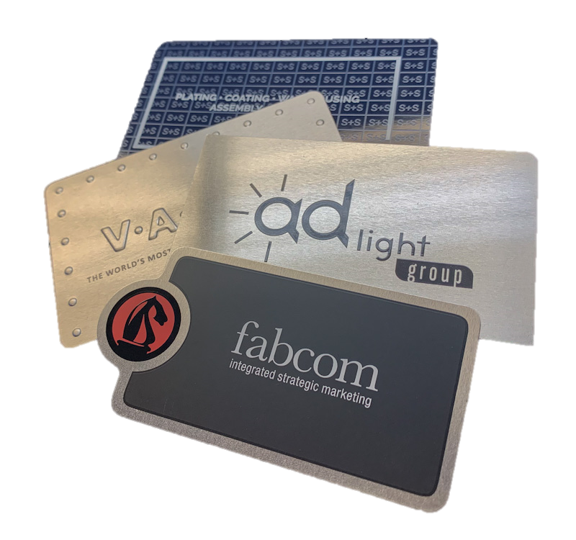 Why Aluminum Business Cards?
Aluminum is lightweight and friendly for manufacturing and tooling. Contact information will not fade away or get ruined if it goes through the washer. Both sides of the metal can be decorated, which means versatility in design. Use aluminum to increase brand awareness for these reasons:
Light weight

Corrosion resistant

Versatile decoration
How Can We Help?
The possibilities for using aluminum to promote brand awareness with business cards are limited only by your imagination. McLoone has a long history of working with companies to support their brand strategy through personalized business cards and other promotional material. We can help you find the right look and feel to make an impact and impress your audience. Contact us for more information.
Related Posts
Promoting your brand awareness with metal business cards may seem a far reach from product identification. In reality, they are very related. The same attention that you give to making sure that your brand is displayed on the products in the market should be given to ensure your leave-behind material is memorable. The following posts contain information to help pull everything together.
3 Ways to Get Your Product Noticed
How Great Product Identification Can Lead to Positive Brand Awareness
3 Ways to Dress Up Metal Nameplates to Increase Brand Awareness
5 Reasons Aluminum is Metal of Choice for Nameplates