No matter if you are brand new to product identification or well seasoned in pulling together the specifications for your label, there are certain pieces of information that each project needs. These include elements such as material, adhesive needs, colors, part dimensions, environmental conditions and any enhancements or special packaging that may be required.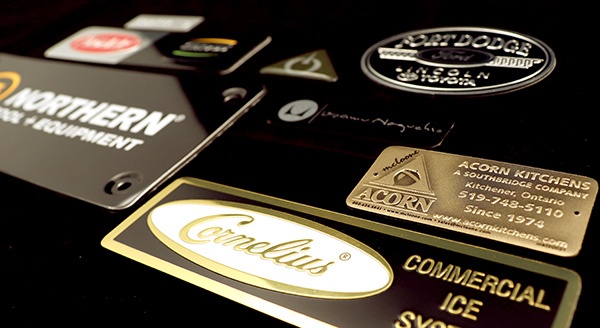 These can be easy to overlook or take for granted that all nameplate and label suppliers have the same understanding or capabilities. Specifications should be called out with notes on the engineering blueprint or in the artwork file. They also can be provided in a separate document as part of the Quality requirements. Another option is to document in an email what is needed.
Following are six typical specifications for nameplate, label and overlay designs.
Substrate Material
Keep in mind what purpose the nameplate or overlay plays in your brand strategy. Do you need a basic ID Plate to provide safety instructions? Are you looking for a decorative nameplate or label to enhance your brand? Is the part going to adhere to a formed surface? How thick does the part need to be? A variety of metal or plastic substrates are available.
Attachment to the Product
Consider how your nameplate will be attached to the end product. Some environments and applications may dictate that the label is secured with rivets. Others can be satisfied with pressure sensitive adhesives. Common specifications call for 3M brand adhesives, but alternatives with comparable composition can be identified as well.
Color Requirements
Take note of how many colors are needed along with special needs for those colors. Color specifying begins with the definition of a master or target color. Many times this is a spec that is defined by your corporate style guide, using corporate colors. There are several options for communicating the information across suppliers. Any of these may require you to provide a color chip so that a custom color formula can be developed.
Color matching system such as Pantone Matching System (PMS), Munsell or RAL - this provides a universal color code for each color.

Physical sample of the color - this requires you to provide a piece of material or item that has the color needed. This can be anything that can be used as a visual representation of the target color, from a door knob with a bronze finish to a piece of material with an exact shade of blue.

Color description given as verbal or written direction for the color such as a color between PMS 185 and PMS 186.
Part Dimensions
The right size and shape of a part ensure the end result is a nameplate or label that fits appropriately in its application. While standard rectangles and circles are popular, any shape can be considered for nameplates and overlays. Customers with multiple product lines can benefit from a common size and shape for their brand awareness.
Environmental Exposure
It may be necessary for a protective top coat or special material depending on whether there is exposure to the elements, certain cleaners or abrasions, various temperatures or sunlight. Some processes or materials may provide better results than others. We are here to help guide in the selection of a product that works for your specific requirements.
Enhancements or Special Needs
Outside of the above specifications for standard nameplate and label design, there are other considerations when you are looking for enhancements or special needs for your product identification. Enhancements for nameplates and labels can bring added decorative elements to the design, such as embossed graphics, doming, or special finishing. Special needs can include bar coding or serialization.
How Can We Help?
These specifications should be reflective of your given industry and application. The more information that can be shared up front, the better discussion and result as we work with you to provide the most cost effective and durable graphic solution.
Originally published August 1, 2018, updated January 26, 2021 for clarity and resources.