While many nameplates and labels produced on our manufacturing floor are designed to use pressure sensitive adhesive to attach to the mating surface, there are times where this is not a good solution. When that is the case, there are mechanical solutions that can be incorporated into your design. Attachment with rivets or screws is a common option. This post reviews the types of holes or piercings that can be reviewed for both industrial metal nameplates and functional plastic overlays.
Types of Pierced Openings for your Nameplate or Overlay
The type of hole that is right for your application can vary depending on what type of attachment you will use. A custom tool operation is needed to configure the location, size and shape of the hole appropriately. The more complex the configuration of holes, the more involved the process which can affect the piece price for the parts. Pierced openings are options in both metal and plastic substrates. The most common shapes for holes and cutouts is a circle or square; however, nearly any shape can be done.
Functional Pierced Holes
A hole can be fabricated into a metal nameplate, ID plate or plastic graphic overlay to allow for design elements including LED lights, buttons or other mechanisms. The pierced area gives clearance for the mating surface component to show or push through the nameplate or overlay, making it a functional decorative. Products with nameplates or overlays with this type of hole include medical devices, speedometers and power tools.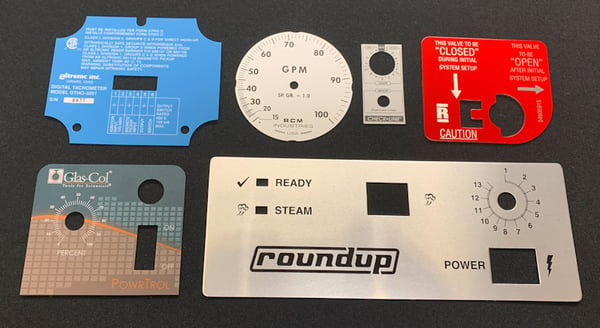 Pierced Holes for Attachment
Holes in metal nameplates and ID plates are often placed for attachment purposes instead of adhesive. The hole is spaced so that a specific size rivet or screw fits through and secures the metal badge to the mating surface. These types of holes are typically flat so that the top of the rivet or screw sits on the surface of the metal, hiding the cut edges of the hole. Nameplates on furniture, engines, exhausts or in industrial settings can be found with these types of pierced holes.
Counter Sunk Holes
A counter sunk hole is generally reviewed when the rivet or screw needs to set down inside of the surface of the metal. This requires custom tooling to create the pocket look for the hole or to mill out the hole. The advantage of this is a smoother edge for the hole location. It also can present a die cast alternative look for the metal badge.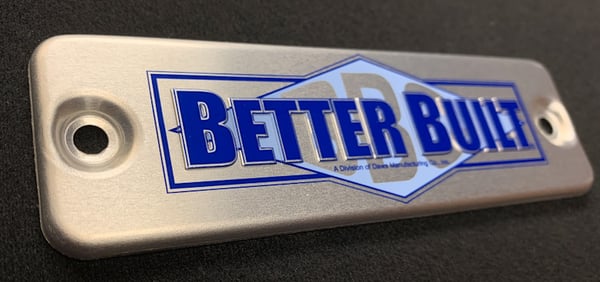 As you can see, there are a variety of options to incorporate pierced holes into product identification. It can be a subtle way to add some interest to nameplate design or it can simply be an attachment solution instead of adhesive.
How Can We Help?
Does your next nameplate need a functional or decorative hole? Or do you need to explore attachment options without adhesive? Our team is ready to take a look and help identify the right solution for your needs.
Related Posts
Common Metal Nameplate Attachment Options
3 Ways to Dress Up Metal Nameplates to Increase Brand Awareness
Factors to Consider for Exterior Metal Badges

Originally published July 4, 2019, updated February 4, 2021 for clarity and resources.