Asset tags are not typically created to reinforce a brand strategy for a company. Instead, this type of product identification is meant as a tool for the owner of the equipment to keep track of inventory, high dollar assets, and valuable equipment in a variety of scenarios. Here are quick examples of a variety of equipment and where asset tags can be placed for effective tracking.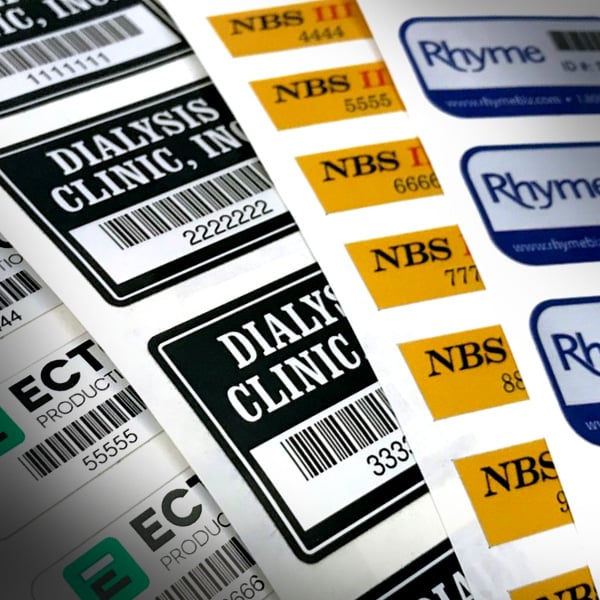 Shop machinery, tools and maintenance equipment - Asset tags for industrial equipment need to be placed so that they can easily be scanned. This may include the front or side wall of the equipment.

Computers - Barcoded tags for computers and electronics are generally found on the back or lower corner of the device.

Office equipment - Scanners, copiers, and other office equipment can be seen with asset tags on the front face or side wall of the product.

Furniture - File cabinets and credenzas often are tagged on the inside of the drawer. High dollar desks, tables and chairs can be tagged on the under side.

Audiovisual equipment - Similar to computers and office equipment, asset tags can be attached on the right side, near the back of the AV equipment.
Regardless of the type of equipment you're identifying or tracking, a major consideration is to have consistency with the placement of your tags. Place the tags in areas that are visible whenever possible. It's also a good idea to keep in mind the ease of access for routine follow-up inspections. You'll want to make sure your tags are accessible and easy to read.
All of the substrates we use in producing custom asset tags are designed to be extremely durable. When combined with permanent pressure sensitive adhesives, your id tags will last the lifetime of your assets. We also offer tamper-evident labels that discourage theft and break apart if someone attempts to remove them.
How Can We Help?
Ready to start reviewing options for your next nameplate or label? We have a team of people ready to help and guide you through the best solution for evaluating options for your product identification.
Related Posts
3 Considerations to Determine Location of Product Identification
4 Common Uses for Metal ID Plates
How Asset Tags Help Your Bottom Line
5 Tips to Prepare for Your Nameplate Project