One of the things to consider when designing any ID plate, label or nameplate is location on the product. Some things to keep in mind when deciding the location include the type of information that is to be displayed, exposure to extreme hot or cold temperatures, and how it will be attached to the product.
Let's step through each in relation to this ID plate found on a commercial-grade food smoker with the location being found on the front face of the equipment. It is not front and center, but placed off to the side.
Information - The information that is showcased gives the required voltage, cycle, and amp settings. It also provides detail for the equipment model, serial number, and manufacture date. These specs are typically used for installation and preventative maintenance of the equipment.

Exposure to heat or cold - This piece of equipment is a smoker which means that there is a heat source. The ID plate placement being set off to the side under control switches and buttons keeps it away from direct or constant contact with the heat.

Attachment - This ID plate is made from thin aluminum foil material with a pressure sensitive adhesive so it permanently will attach to the equipment. A breakaway tear tab at the top makes for easy peel and stick application.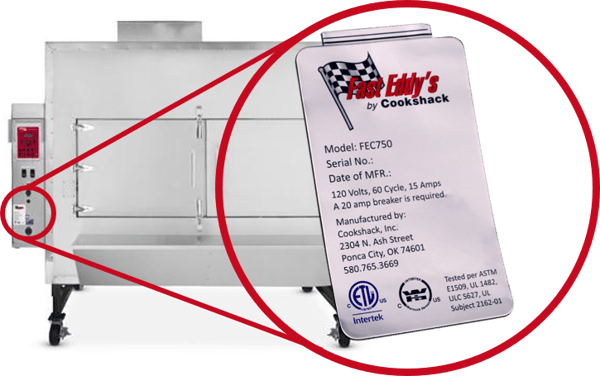 Determining the location for your ID plate, label or nameplate should not be taken lightly. Brand-building nameplates that showcase a logo or product name are meant to grab attention, and are usually found on the front of products. Asset tags are not as aesthetic, and often are found on side or back panels of products and equipment. Keeping in mind the considerations above will help you make the appropriate determination based on your unique application and objective.
How Can We Help?
Ready to start reviewing options for your next nameplate or label? We have a team of people ready to help and guide you through the best solution for evaluating options for your product identification.
Related Posts
Style Options for Metal Plates and Tags
6 Tips to Simplify ID Plates
Serialized Tags and Labels for Equipment Identification
Critical Alignment for Metal Nameplates
3 Considerations for the Design of Nameplates and Labels