Embossing is a durable solution for permanent identification on a product. It also adds elegance to a design. When metal is simply embossed (blind emboss) specific characters or logos are raised up from the surface, resulting in dimension and robust product branding. Use this for communicating important information or to showcase your company information.
This video reviews a couple of examples showing both how blind embossed aluminum can elevate a brand as well as assure permanent branding for product identification.
Embossed Metal Nameplates
Embossed nameplates are created with a custom tool, which pushes the surface up to match the dimension and artwork image provided. The height of the embossed area depends on the thickness of the metal and the type of tool that is used. The industrial metal tags that are shown display the difference in emboss heights. This is all part of customizing the look and feel of your product identification.
The examples shown have a blind emboss, meaning that the embossed characters and graphics have the same finish as the background. This is a subtle effect which can elevate the look of a nameplate. Intricate details like seen in the aluminum foil vault nameplate show dimension and add luxury to the brand.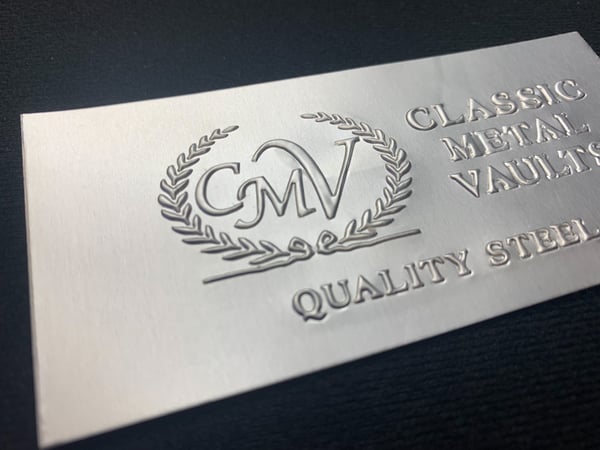 How Can We Help?
No matter if you are well seasoned in product design or need some guidance to define the specs for your nameplate, we can help! Our skilled Customer Service and Art Department will work with you to understand how best to incorporate embossed aluminum into your brand strategy.
Related Posts
Elevate your Brand with Embossed Aluminum
Permanent Embossed Text for Metal Information Plates
4 Reasons to Emboss your Metal Nameplate